Journal of Veterinary Science & Medicine
Download PDF
Research Article
Behavioural Correlates of Neutering Male Dogs -a Question of Breed?
Kolkmeyer CA1,2*, Schmitz J3 and Gansloßer U2
1Department of Biology, University of Vechta, Germany 2Institut für Zoologie & Evolutionsforschung mit Phyletischem Museum, Ernst-Haeckel-Haus und Biologiedidaktik, Erbertstr. 1. 07743 Jena, Thuringia, Germany 3Department of Biology and Biotechnology, Ruhr-Universität Bochum, Germany
*Address for correspondence: Kolkmeyer CA, Fach Biologie, University of Vechta driverstrasee 22, 49377 Vechta, Germany, Tel: 49 -911790 9360; Email: carina.kolkmeyer@uni-vechta.de
Submission: 1 April, 2021 Accepted: 5 May, 2021 Published: 10 May, 2021
Copyright: © 2021 Kolkmeyer CA et al. This is an open access article distributed under the Creative Commons Attribution License, which permits unrestricted use, distribution, and reproduction in any medium, provided the original work is properly cited.
Abstract
Castration of dogs is often conducted as a preventive measure against diseases and undesirable behaviour. While female dogs are preferably neutered for medical reasons, owners of male dogs hope for an improvement in behavior. Although there is a lack of scientific knowledge on this subject, neutering is often conducted to get a more trainable and less aggressive dog. The aim of this study is to examine castration from an ethological perspective and to reveal possible behavioural changes after castration related to breed. An online study was conducted consisting of two different questionnaires about the dog's personality. A total of 242 dog owners participated in the study concerning specific behaviour problems (n = 130 intact and 112 neutered males). Another 211 owners of males (n = 115 intact, 96 neutered) completed the questionnaire about personality traits (dog sociability, trainability, emotional stability and extraversion) based on Turcsán et al. 2011. Four breed categories were formed following Parker et al. (2017): shepherds, retrievers, terriers, and hunting Dogs. Our study reveals that intact males are bolder than neutered males. Intact males have lower aggression scores than neutered ones. Castrated males show significantly more panic behavior (multinomial logistic Regression, p = 0.04). Intact shepherds are bolder than neutered ones (Mann-Whiney-U-Test: p = 0.03) and intact terriers are bolder than neutered terriers (Mann- Whitney-U = Test: p = 0.04). Intact terriers scored lower for aggression than neutered ones. With these results and the data of previous studies, we question castration to modify behavior, as a measure for reproductive control and as a preventive measure against diseases.
Keywords
Castration; Retriever; Shepherds; Hunting Dogs; Terrier; Personality traits; Panic; Aggression
Introduction
The more traditional and widely used methods of categorizing breeds have been promoted by various national and international cynological associations, where dog breeds are divided into groups based on the type of task dogs must perform. Empirical studies examining breed differences in behavior have largely focused on the categorizations established by the American Kennel Club (AKC) and the Fédération Cynologique Internationale (FCI) (n = 365 breeds, 10 breed groups).
The main aims of our study are (1) to find out, if neutered and intact dogs of different breeds show differences in the personality traits of extraversion, dog sociability, emotional stability and trainability (based on Turcsán et al. 2011) and (2) to analyse differences in stressindicating behavior or panic and fear between intact and neutered males of the respective breeds.
Materials and Methods
Dog owners completed the online questionnaires between April and December 2020. Questionnaires were distributed to friends, family, social media, dog schools and breeders. All dogs live with their owners in a family association. For determination of breed we relied on the owners' assignment without checking them e.g. by means of pictures, pedigree excerpts etc. Both dogs kept exclusively as family dogs and also dogs that are led for hunting were included. The dog breeds were categorized according to Parker et al., (2017) into the following breed categories see (
Table 1
)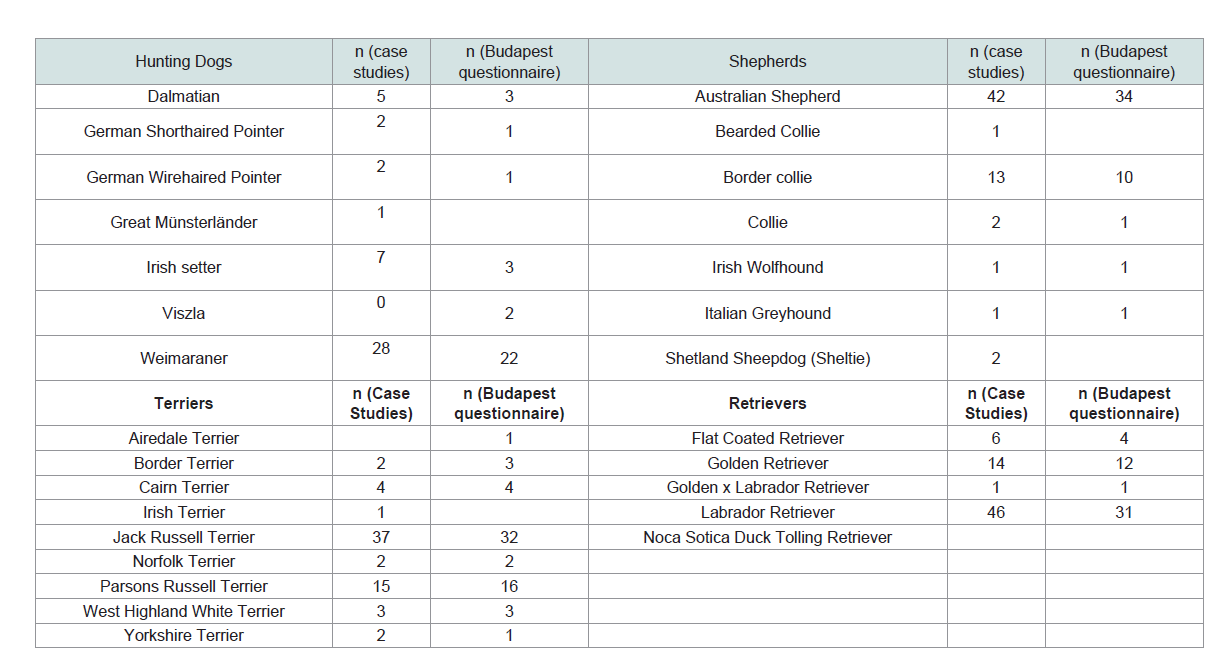 Table 1:
The number and categorization of the dog breeds into clades based on the genetic study by Parker et al. 2017.
Case Studies:
In the first part of the questionnaire, the demographic data of owners (age, gender) and dogs (age, gender, breed and neutering status) were asked. The following questions were about the environment and the daily routine of the dogs. In addition, the problems in living together with the dog and any previous diseases were included. In this work, questions regarding breed, gender and castration status were used for analysis and were evaluated using Microsoft Excel (version 2016). The exact breeds of the participating dogs can be found in the appendix.
BUDAPEST Questionnaire:
The questionnaire from Turcsán et al. (2011) provides information on the four personality traits extraversion, dog sociability, emotional stability and trainability. The questionnaire contains a total of 24 questions that are answered by a 3-point scale. The answers in the four categories were evaluated by forming scores. The results of the questionnaire were analyzed by using Microsoft Excel (version 2016) and SPSS software (by IBM, version 27). The following personality traits (based on Turcsán et al. 2011) were analysed:
Boldness = Extraversion:
(we prefer the last term to avoid confusion with the behavioral supertrait as in the shy-bold-system): Low scores indicate an anxious and insecure character. High scores indicate an open-minded, extrovert character.
Dog Sociability:
Low scores indicate a high tendency for bullying or fighting behavior towards conspecifics. High scores indicate non-suspicious behavior and a more peaceful communication with conspecifics.
Emotional Stability:
Is related to the dog's behavior in stressful situations. Low scores indicate anxious and stressful behaviour (=neuroticism). High scores indicate a calm and emotional stable dog.
Trainability = openness:
Low scores in this trait indicate a less playful and inventive character. Dogs with low scores are considered less open and inquisitive.
Statistical Analyses:
The statistical evaluation and some graphical representation of the results were carried out in SPSS software (by IBM, version 27). The data were tested for normal distribution using the Kolmogorov-Smirnow test [
22
]. Since all data are not normally distributed, non-parametric tests were used for the analysis. Independent data, e.g. comparisons of intact and castrated males were calculated using the Mann- Whitney U test [
30
], comparisons with k-samples, e.g. comparisons of personality traits between breed categories examined by the Kruskal-Wallis H test ( H test) [
25
]. In the second case, if statistical significance was recognized, an adapted post-hoc test was carried out after the Kruskal-Wallis-test. This test includes a comparison of the individual groups including a Bonferroni correction to adjust the level of significance (Dunn-Bonferroni test). In general, the level of significance was set at α = 0.05. The nominal data of the case studies were statistically analyzed using a multinominal logistic regression to test the differences in dog behavior on a multivariable level.
Results
Aggressive behavior occurred in all breed classes, with the exception of the hunting dogs, more frequently in the castrated than the intact males.
Panic was recorded among shepherds, hunting dogs and retrievers only among neutered dogs. The differences for the castration status are statistically significant for the trait panic (multinomial logistic regression, p = 0.04). When the effect sizes are considered individually, it is noticeable that the significant value is mainly due to differences in castration status and not due to differences in breed.
Discussion
Possible explanations for the results can be found in the evaluation of the dog owners as well as in the current research on castration and modern dog breeds.
Using the questionnaire about the dog's personality, differences in extraversion could be determined. Although no major differences between the breed categories of retrievers and hunting dogs could be found, there were significant differences between the shepherds and the terriers. The intact shepherds differ from the neutered shepherds and likewise the intact terriers differ from the neutered terriers. Intact males have higher values in extraversion and are therefore considered to be more open-minded and less fearful than neutered dogs.
Regarding aggression control, it should also not be disregarded that only types of aggression can be influenced by castration that are dependent on sex hormones.
Above all, the different types of aggression must be taken into account.
Our results once again show the importance of individual-based informed decision-making processes regarding this ever-present topic.
References