Journal of Veterinary Science & Medicine
Download PDF
Review Article
Review on Triclabendazole Resistance in Fasciola
Warkaw Merachew1 and Tewodros Alemneh2*
1School of Veterinary Medicine, College of Agriculture and Veterinary Medicine, Jimma University, Jimma, Ethiopia 2Woreta City Office of Agriculture and Environmental Protection, South Gondar Zone, Amhara Regional State, Ethiopia
*Address for correspondence: Alemeneh T, Expert Veterinarian at Woreta City Office of Agriculture and Environmental Protection, South Gondar Zone, Amhara Regional State, Ethiopia, Tel: 251 9 20 49 98 20; Email: tedyshow@gmail.com
Submission: 05-August, 2020; Accepted: 21-September, 2020; Published: 25-September, 2020
Copyright: © 2020 Merachew W et al. This is an open access article distributed under the Creative Commons Attribution License, which permits unrestricted use, distribution, and reproduction in any medium, provided the original work is properly cited.
Abstract
The control of Fasciolosis can be achieved by application of anthelmintic drugs, elimination of the number of intermediate hosts and reduction of exposure to infection. Triclabendazole, which is a member of Benzimidazole, is most recommended and effective way of controlling fasciolosis in animals and humans that can kill both mature (adult) and immature liver flukes. This drug have able to penetrate the tegument of Fasciola (F) hepatica by diffusion, and the fluke is able to sulfoxidate the drug to the active sulfoxide metabolite which binds to β-tubulin and thus inhibit the formation of microtubules that are components of cytoskeleton of the parasite. However, in recent year, resistance of Triclabendazole is reported in animals and humans in different regions of the world. Resistance has likely appeared due to a generally poor understanding of liver fluke biology by farmers and con-founding factors, such as incorrect dosing, inappropriate product choice, and lack of testing for efficacy. These conditions may lead to reduced diffusion and metabolism of the drug, change efflux pump activity and changes in the target molecule that can reduce the effectiveness of Triclabendazole. Both in-vivo and in-vitro methods, like Faecal Egg Count Reduction Test (FECRT) and the Egg Hatch Assay (EHA), respectively, can help to investigate the resistance of Triclabendazole. Administration of dual active flukicide drugs, development of vaccines, implementation of Fasciola control methods other than Triclabendazole, and use of accurate dosage at appropriate time can help to reduce the incidence of Triclabendazole resistance.
Keywords
Anthelmintics; Fasciola; Resistance; Triclabendazole
Introduction
The Disease: Fasciolosis
Fasciolosis is among the important parasitic diseases in tropical and subtropical countries which limit productivity of ruminants in particular cattle.
Fasciola hepatica
and
F. gigantica
are the two liver flukes commonly reported to cause fascioliasis in ruminants [
12
]. Fasciola spp. infects mammals worldwide, mainly ruminants, but also humans can become infected. In ruminants, and especially in sheep, the infection reduces feed conversion, growth, and meat and milk production. Moreover, it is one of the major causes of liver condemnations at abattoirs and interferes with fertility and fecundity. Fascioliasis is a disease that affects the liver parenchyma and bile ducts of numerous animals, including humans, which causes economic losses and threatens public health [
13
].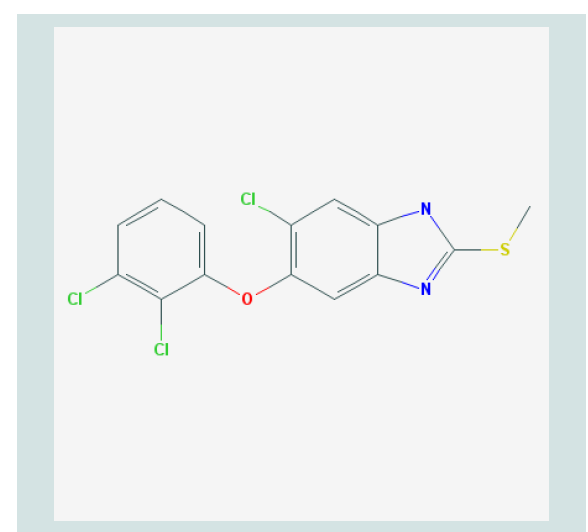 Figure 1:
Molecular Structure of Triclabendazole [
21
].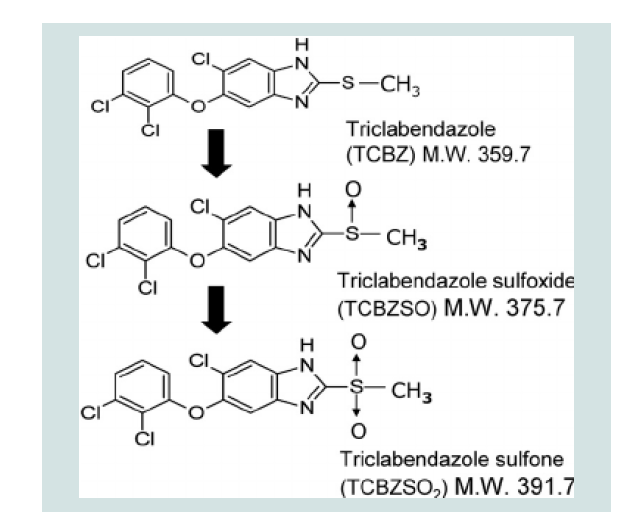 Figure 2:
Chemical Structure of Triclabendazole and its Metabolites [
23
].
Control and Prevention of Fasciolosis
The Drug: Triclabendazole
Triclabendazole Resistance Distribution
Modes of Triclabendzole Resistance
Management Strategies to Delay Development of Triclabendazole Resistance
Conclusion
In conclusion, livestock production has a great potential to rural farmers in the world. It can be well exploited if fasciolosis and Triclabendazole drug resistance are controlled very well. Triclabendazole drugs are the most realistic means to control animal fasciolosis. However, the increasing trends of Triclabendazole use and Triclabendazole resistance are a serious problem to cattle production in the world. Since there will no new products become available in the near future, it is of utmost important to maintain the efficacy of Triclabendazole. The widespread incidence of TCBZ-R in livestock will be a major threat to global livestock production and producers need see alternative treatments, such as new flukicides or vaccines to control infections. Based on the above conclusion, the following recommendations are forwarded; strict supervision on the usage of Triclabendazole drugs should be implemented; professionals and livestock owners should be well aware of about Triclabendazole drug and its resistance; more attention should be given to the adoption of integrated parasite management strategies in the farms to control the parasite; since there is no literature available on Triclabendazole in Ethiopia, more researches ought to be done regarding Triclabendazole resistance and its efficacy in various parts of the country.
Acknowledgement
Authors would like to express their deepest thanks to God for his permission to do all daily activities as well. Authors also would like to say thanks to Mr. Sileshi Belew for his excellent guidance and advice, valuable simulative suggestions, necessitated encouragements and overall supervisions that highly aid for the completion of this work.
References