Journal of Veterinary Science & Medicine
Download PDF
Research Article
Pharmacokinetics of Artemisinin in Broiler Chickens after Intravenous and Oral Administrations
Ali Rassouli*, Hossein Ali Arab, Ismael Imani and Gholam Reza Shams
Department of Pharmacology, Faculty of Veterianry Medicine, University of Tehran, Tehran, Iran
---
*Address for Correspondence:
Ali Rassouli, Department of Pharmacology, Faculty of Veterinary Medicine, University of Tehran, Tehran, Iran, Tel: +9821-61117086; Fax: +9821-66933222; E-mail:
arasooli@ut.ac.ir
Citation: Rassouli A, Arab HA, Imani I, Shams GR. Pharmacokinetics of Artemisinin in Broiler Chickens after Intravenous and Oral Administrations. J Veter Sci Med. 2016;4(2): 4.
Copyright: © Rassouli A, et al. This is an open access article distributed under the Creative Commons Attribution License, which permits unrestricted use, distribution, and reproduction in any medium, provided the original work is properly cited.
Journal of Veterinary Science & Medicine | ISSN: 2325-4645 | Volume: 4, Issue: 2
Submission: 26 September, 2016| Accepted: 20 October, 2016 | Published: 31 October, 2016
Abstract
Artemisinin (ART), the active ingredient of Artemisia spp. is a promising anticoccidial agent. Since there is no documented information on pharmacokinetics (PK) of this herbal drug in poultry, the present study was carried out to explore PK parameters of ART in broiler chickens. Sixty-four healthy broiler chicks of 21 days old were randomly divided into 4 equal groups. In groups 1 and 2, each bird received a single dose of ART at 2 mg/kg by oral (PO) and intravenous (IV) administrations, respectively. But each bird in groups 3 and 4 was given 5 mg/kg ART by PO and IV, respectively. Blood samples were taken at different pre-determined time-points. The serum concentrations of ART were measured by using a high performance liquid chromatographic (HPLC) method. PK parameters of ART (including maximum concentration, Cmax, time to reach maximum concentration, Tmax, area under the drug concentration-time curve, AUC, mean residence time, MRT, volume of distribution at steady state, Vss, and bioavailability, BA) were calculated through noncompartmental analysis. The Cmax values for 2 and 5 mg/kg were 4.29 ± 0.15 and 7.81 ± 0.39 µg/ml; and the BA values (%) were 63.4 ± 4.8 and 69.3 ± 2.2, respectively. The Vss values after IV administration in groups 2 and 4 were 295 ± 19 and 484 ± 30 ml/kg, respectively. The relatively high BA and a low Vss for ART in the present study suggest that there is a species difference in PK of this compound in poultry.
Keywords
Artemisinin; Coccidiosis; Pharmacokinetics; Bioavailability; Poultry
Introduction
Materials and Methods
Animals and drug administration
Sixty-four healthy day-old broiler chicks (Ross 308) were purchased from a local poultry farm. They were kept in metal cages for three weeks with free access to conventional feed and water as well as 12 h light/darkness cycles. The birds were randomly divided into four groups of 16 birds one week before drug administration. Animals were kept fast for 12 h before experiment and 4 h following the drug dosing, however, water was accessible to birds except 2 h before and 2 h after drug administration. Pure ART (>90%) as colorless crystals were purchased from Sichuan Arts and Crafts Import & Export Corporation, China. ART solutions were prepared by dissolving pure ART in dimethylsulphoxide (DMSO) and then diluted by adding water. On day 21, in a parallel design, birds were treated with different doses and routes of administration. In groups 1 and 2, each bird received 2 mg/kg ART by PO and IV administrations, respectively. But each bird in groups 3 and 4, was given 5 mg/kg ART by PO and by IV, respectively.
This study was a randomized, parallel group, double blind, placebo controlled trial for assessing the safety and efficacy of cosmetic product Romantaque Lotion in healthy human volunteers according to IS 4011:1997/2009 Guidelines for three hair growth cycles. This clinical study included two protocols to evaluate safety and efficacy of the test material, Draize test- (RMTK 01) and Use Test- (RMTK 02). The study was carried out between 15 March 2013 and 13 February 2014 at National Toxicology Centre, Pune. The study protocol was approved by an Independent Ethics Committee, Informed written consent were obtained from all the volunteers before enrollment for study. This study has been registered with Clinical Trials Registry of India (CTRI) - CTRI/2015/02/005534.
This study was approved by the Reviewing Board of Ethics Committee, Faculty of Veterinary Medicine, University of Tehran.
Blood sampling and HPLC analysis
Blood samples were taken before drug administration from all 16 broiler chickens in each experimental group and at 1, 2, 4, 8, 12 and 24 h after drug administration from 8 birds in each time points alternatively. The sera of blood samples were collected within 2 h and kept at -20 ºC until analysis. ART in serum samples was extracted by liquid-liquid extraction and measured by an HPLC method with precolumn alkaline derivatization [
9,
16
].
The HPLC system used to measure ART in sera briefly consisted of a C18 column (5 μm; 300* 4.6 mm) and a mobile phase (phosphate buffer, pH=7.9 (60%): Methanol (40%)), running isocratically with a flow rate of 1 ml/min, and a UV detector set at 260 nm. Standard calibration curve was depicted and used for measurement of ART concentrations in serum samples.
PK analysis
ART concentration- time curves of each group depicted using Excel 2013. Cmax and Tmax values were obtained directly from the curves drawn for each experimental group. Other PK parameters of drug calculated through non-compartmental analysis (NCA) and using corresponding formula. The area under the plasma concentration-time curve (AUCo-t) was calculated using the linear trapezoidal rule to the last point. The mean residence time (MRT) was obtained by dividing the area under the first moment-time curve (AUMC0-t) by the area under the curve (AUC0-t). Total oral body clearance (Cl or CL/F) was calculated as dose/AUC0-t. Systemic BA (orally absorbed fraction, F) was calculated as F = AUCPO/AUCIV. Remaining PK parameters including volume of distribution at steady state, Vss, or Vss/F, and mean absorption time, MAT, as well as elimination rate constant, Ke, absorption rate constant, Ka, and elimination half-life, t½, were also calculated using the equations of NCA [
17
]. Data were expressed as the mean ± standard deviation in this study.
Results
Serum concentration-time curves of ART following IV and oral administrations at 2 and 5 mg/kg in broiler chickens were shown in
Figure 1
. There were similar patterns of fluctuations in serum concentrations of ART following two doses in oral administration as well as IV dosing. Typical blood level changes following IV administrations were found and peak serum concentrations after oral administration were obtained at 4 h post-dosing for both ART dosages. PK parameters of ART after IV and oral administrations in broiler chickens were also seen in
Table 1
.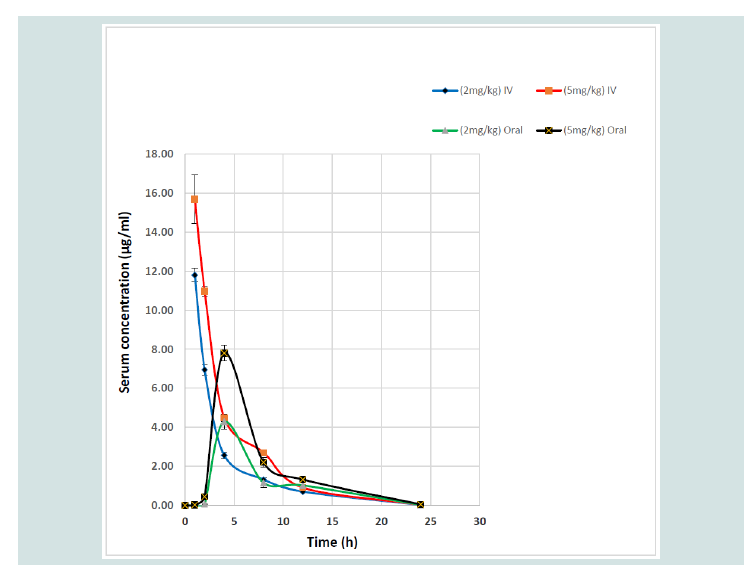 Figure 1:
Serum concentration-time profiles of artemisinin after intravenous (IV) and oral administrations at 2 and 5 mg/kg in broiler chickens. Data represent the mean ± SD (n=8).
Discussion
In conclusion, this study showed a relatively high BA and a very low Vss for ART in broiler chickens. It is suggested that there is a species difference in the extent of absorption and volume of distribution of ART after a single dose in poultry.