Journal of Pharmaceutics & Pharmacology
Download PDF
Review Article
Current Medication Trendsand Global Impact on Neurodegenerative Disorders
Harikesh Maurya* and Sudhir Kumar
Department of Pharmacology, Hygia Institute of Pharmaceutical Education and Research, Lucknow, India
*Address for Correspondence:
Harikesh Maurya, Department of Pharmacology, Hygia Institute of Pharmaceutical Education and Research, Lucknow, India, Email:
mauryaharikesh2@gmail.com
Citation: Maurya H, Kumar S. Current Medication Trends and Global Impact on Neurodegenerative Disorders. J Pharmaceu Pharmacol. 2018; 6(1): 9.
Copyright: © 2018 Maurya H, et al. This is an open access article distributed under the Creative Commons Attribution License, which permits unrestricted use, distribution, and reproduction in any medium, provided the original work is properly cited.
Journal of Pharmaceutics & Pharmacology | ISSN: 2327-204X | Volume: 6, Issue: 1
Submission: 30 July, 2018| Accepted: 03 September, 2018 | Published: 12 September, 2018
Abstract
Neurodegenerative disorders are the medical condition characterized by destruction in neuronal cells, abruption of neuronal activity and distinct involvement of the functional movement. The main neuronal disorders like Parkinson and Alzheimer disease are caused by environmental and genetic influences associated with accumulation of abnormal protein aggregation, which leads to inflammation as well as oxidative stress in the central nervous system. The AYUSH medication system considerably accepted by health-care professionals played a critical role since a decade to manage the elevated factors and continuously improving lifestyle for good survival of the patients. In which allopathic and ayurvedic medications have been precisely introduced for the management of disorders and regain of neuronal function. Unani and Siddha medicines have been widely used since ancient time and found as significantly reliving the sign and symptoms of neurodegenerative disorders, while yoga plays a perfect role for the management of these disorders. Regular yoga practice may relax the mind and calms the brain; reduces headache, fatigue and cures insomnia; increases blood circulation and maintain proper supply of oxygen to the lungs and detoxifies the internal organs. Thus, yoga plays a promising role in the improvement of mental health, releases stress, fatigue, depression and tension and also stimulating blood circulation in the brain. Finally it was concluded that, the AYUSH medication system ighly accepted for reliving the neuronal complications and managing all elevated parameters in patients suffering from neuronal disorders.
Keywords
Neurodegenerative disorders; Parkinson; Alzheimer; Depression; AYUSH medication system
Abbreviations
AD: Alzheimer's Disease; AChE: Acetyl Cholinesterase; ALS: Amyotrophic Lateral Sclerosis; ATP: Adenosine Triphosphate; AYUSH: Ayurveda Yoga Unani Siddha Homoeopathy; BChE: Butyrylcholinesterase; BBB: Blood Brain Barrier; CNS: Central Nervous System; NDDs: Neurodegeneration Disorders; PD: Parkinson's Disease; HD: Huntington's Disease; MS: Multiple Sclerosis; RRMS: Relapsing Remitting Multiple Sclerosis; SPMS: Secondary Progressive Multiple Sclerosis; PPMR: Primary Progressive Multiple Sclerosis; PRMS: Progressive Relapsing Multiple Sclerosis; ROS: Reactive Oxidative Stress; TCA: Tricarboxylic Acid; ETC: Electron Transport Chain; NMDA: N-Methyl-D-Aspartate; MAOB: Monoamine Oxidase B; NSAID: Non Steroidal Anti-inflammatory Drug; MRI: Magnetic Resonance Imaging
Introduction
Alzheimer's disease
Parkinson's disease
Huntington's diseases
Amyotrophic lateral sclerosis
Multiple sclerosis
Symptomes
Pathophysiology
The common pathological features of the neurodegenerative disorders are aggregation of mutated or misfolded proteins, gliosis, atrophy and neuronal cell loss. In AD, neuronal cell death is associated with the deposition of extracellular amyloid plaques, consisting of amyloid β peptides and intracellular neurofibrillary tangles. In PD, loss of dopaminergic neurons within the substantia nigra with associated lewy bodies, cytoplasmic aggregates made up predominantly of alpha-synuclein. In HD, predominant atrophyof the striatum, cortex and caudate is particularly affected with significant loss of medium spiny neurons but fewer loss of glial cells.In ALS, neuronal cell death preceded by cellular shrinkage, axonalswelling and mutations in the gene superoxide dismutase involved inthe regulation of free radical formation.
Although the proteins affected in AD, PD, HD, and ALS are different, there are several common mechanisms, including the formation of oligomeric protein aggregates and increased oxidativestress, ultimately lead to neuronal cell death. The pathways and overarching functional groups in this model are highly related and canhave overlapping or interacting components which can collectivelymodulate neurodegenerative processes (
Figure 1
) [
26,27
].
Etiology
Neurodegenerative disorders are characterized by progressive dysfunction of specific characteristic of neurons and neuronal defeats associated with extra and intra cellular accumulation of misfolded proteins. The main critical processes for abnormal protein dynamics is due to the deficiency of ubiquitin-proteosome-autophagy system, oxidative stress, free radical formation, mitochondrial dysfunction and impaired bioenergetics (
Figure 2
). The second most process involves in dysfunction of neurotrophins is neuronal inflammation which disrupts the neuronal Golgi apparatus and axonal transport [
28
].
The interrelated mechanisms leads to programmed cell death are explained as follow;
1. Protein aggregation:
It plays a variety of pathological characteristic involve in neurodegenerative disorders due to abnormal interactions between intra and extra cellular deposition of self-aggregating misfolded proteins with formation of high-ordered insoluble fibrils [
29-34
]. The basic neurodegenerative process is the formation of several gene-gene complex and gene-environmental interaction with mutation in the genes encoding protein constituents [
35
]. Whereas the disintegration of neuronal networks depend on dysfunction and death of neuronal as well as glial cells, which caused by abnormal protein-protein interactions with its lesion that result from the production of vicious circles (
Figure 3
) [
36,37
].Abnormal interaction between normal, highly soluble brain proteins alters their characteristics, properties and misfolding gradually converts them into insoluble polymers with the aggregates adopting either highly ordered (cross-pleated sheet structures) or disordered (amorphous) forms [
38-40
].
2. Protein misfolding:
Protein aggregation resemblin inappropriate folding or misfolding protein leads to structural and functional changes of a normal protein, inducing the formation of protein aggregates through different supramolecular organizations (
Figure 4
). Abnormal proteins resulting the production errors inherited or acquired amino acid substitutions often cannot fold correctly and will be trapped in misfolded conformations. The pathogenic pathways involve membrane permeabilization through a channel mechanism or hydrophobic interaction of prefibrillary oligomers with different cellular targets [
41,42
].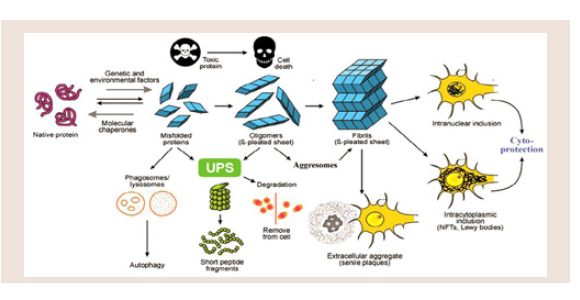 Figure 4:
Model of protein misfolding and fibrillation leading to deposition of aggregated proteins in cells and extracellular spaces via actions of the UPS, phagosomes and aggresomes, either causing cell death or cytoprotection.
3. Mitochondrial dysfunction and ROS:
Mitochondrial dysfunction and oxidative stress play an important role for the development of more common neurodegenerative disorders. The loss of mitochondrial function is associated with an increase in the production of reactive oxygen intermediates and a number of human diseases [
43
]. Mitochondria use metabolic intermediates generated during the Tricarboxylic Acid (TCA) cycle to produce Adenosine Triphosphate (ATP) during oxidative phosphorylation. Electrons are occasionally captured by oxygen to produce superoxide anion radicals (O
-2
) during the ETC (electron transport chain). These superoxide radicals are converted in to hydrogen peroxide in the mitochondria through the action of manganese superoxide dismutase. In the mitochondria hydrogen peroxide is broken down to water by the action of glutathione peroxidase or peroxiredoxins. The inhibition of ETC proteins can cause a subsequent increase in ROS resulting in decrease in the mitochondrial membrane potential, loss of ATP, energy collapse and subsequent cell death [
44,45
].
Diagnosis
Treatment of neurodegeneration
Yoga system of management
1. Padmasana (Lotus pose)
2. Vajrasana (Diamond pose)
3. Ardha Matsyendrasana (Half spinal twist pose)
4. Paschtimottanasana (Seated forward bend)
5. Halasana (Plow pose)
6. Mayurasana (Peacock pose)
7. Sirsasana (Headstand pose)
8. Shavasana (Corpse pose)
9. Sarvangasana (Bridge-bandha pose)
10. Uttanasana (Standing forward bend)
11. Vrikshasana (Tree pose)
12. Shashankasana (Hare pose)
Unani medication system
Siddha medication system
Allopathic medication system
Discussion
Conclusion
The various areas of study of Yoga practices were reviewed in the present article indicated physiological benefits and its effect on nervous system, immune system, circulatory system, respiratory system, digestive system and endocrine system. Improvement in antioxidant property through Yoga system are extremely utilizes in prevention of neurodegenerative disorders, cardiovascular disorders, psychosomatic disorders, analgesic effect, numerous benefits of Yoga on female population and role of Yoga on rehabilitation. Finally it was observed from the published report that the Yoga can be adopted by a large healthy and diseased population. A significant diagnostic evaluation is essential for best possible care and management of neurodegenerative patients. The current review discuss the most excellent treatment medication systems i.e. "AYUSH" for the management of neurodegenerative condition on the basis of enormous published research proposal. Furthermore peaceful investigation and prevention on neurodegenerations are requiring for management of these challenging task to improvement of patient's life.