Journal of Proteomics & Computational Biology
Download PDF
Research Article
An In Silico Approach for Characterization of an Acetyltransfarase Protein from Shigella flexneri Serotype 5b (strain 8401)
Md Shahabuddin Ahmed 1* , Md Ashraful Islam 2 , Mohammad Mosharraf Hossain 2 and MarufaNasreen 1
1 Department of Biotechnology and Genetic Engineering, Mawlana Bhashani Science and Technology University, Bangladesh
2 Department of Soil Science, Sher-e-Bangla Agricultural University, Bangladesh
---
* Address for Correspondence:
Md Shahabuddin Ahmed, Department of Biotechnology and Genetic Engineering, Mawlana Bhashani Science and Technology University, Santosh, Tangail-1902, Bangladesh, Tel: +880 1515607154; E-mail:
shahabuddinahmedbge@outlook.com
Citation: Ahmed MS, Islam MA, Hossain MM, Nasreen M. An In Silico Approach for Characterization of an Acetyltransfarase Protein from Shigella flexneriSerotype 5b (strain 8401). J Proteomics Computational Biol. 2017;3(1): 6.
Copyright: © 2016 Ahmed MS, et al. This is an open access article distributed under the Creative Commons Attribution License, which permits unrestricted use, distribution, and reproduction in any medium,provided the original work is properly cited.
Journal of Proteomics & Computational Biology| ISSN: 2572-8679 | Volume: 3, Issue: 1 Submission: 16 March, 2017| Accepted: 15 April, 2017| Published: 21 April, 2017
Abstract
Shigella flexneri serotype 5b (strain 8401) is a gram-negative, non-sporulating and facultative anaerobic bacteria. A hypothetical protein yjaB of these bacteria, consisting of 147 residues was picked out for in silico analysis. Many bioinformatic tools were used to predict the 3D structure and function of this protein. Subcellular localization predictions shows it is a cytoplasmic protein. Sequence similarity was brought in through Protein Data Bank and non-redundant database using BLASTp program of NCBI and a search for templates revealed that yjaB shares 97% homology to a protein of Escherichia coli, indicating this protein is evolutionary conserved and was found with acetyltransfarase. Multiple sequence alignment (MSA) was used to locate the conserved residues. Three-dimensional structures and the secondary structures were predicted. The authorization of the threedimensional structure was obtained through PROCHECK and QMEAN6 programs. Root mean squared deviation (RMSD) tool was used to detect superimposition of query and template structure. CASTp server was used to predict the active site of the protein. In the end, whole results indicated the biological function of the target protein to be an acetyltransfarase.
Keywords
In-silico; Acetyltransfarase; BLASTp; Active-site; MSA; RMSD
Background
Shigella
species are gram-negative, non-sporulating, facultative anaerobes that cause bacillary dysentery or shigellosis which remains a major worldwide health problem. Approximately, 160 million are affected annually with 1.1 million deaths. In developing countries most of the children are affected who are under 5 year and occurs with shigellosis [
1
].
The inadequate sanitary conditions widespread in these areas contribute to the extent of the bacteria, and the cost of antibiotics and rising antibiotic resistance complicate treatment [
2
].
Shigella
was identified as the agent of bacillary dysentery in 1890s. It was selected as a genus in the 1950s and redivided into 4 species:
S. boydii, S. flexneri, S. dysenteriae and S. sonnei
[
3
].
S. flexneri is parted into 6 serotypes (including 13 subtypes) according to this taxonomy. The maximum work on the molecular pathogenesis of
Shigella
has been performed in
S. flexneri serotypes
5 and 2a.
Shigella flexneri
serotype 5b (strain 8401) was set apart and sequenced from epidemic in China, with compassion provided by the National Institute for Communicable Disease Control and Prevention, Chinese Centre for Disease Control and Prevention[
4
].
Shigella flexneri
serotype 5b (strain 8401) carry a circular chromosome which is 4,574,284 bp in length with GC content of 50.92% which encodes 97 tRNA [
5,6
]. The hypothetical protein yjaB shows acetyltransfarase activity. Acetyl CoA transfer acetyl group to lysine amino acid with the presence of acetyltransferases enzymes. These lysine residues reside on histone tails in the case of histone acetyltransferases (HATs). In most cases, addition of acetyl groups to histone tails causes gene activation by inducing and recruiting a euchromatin conformation and bromodomain containing transcription factors respectively for genes in close closeness to the acetylated histone [
7,8
].
Although, providing the massive amount of data by recent genome sequencing projects but many of these genomes are still not fully annotated as well as consist of genes/proteins with unknown function and structure. Owing to several limitations, such as the cost and time needed for experimental approaches. Bioinformatics approach is an alternative to laboratory-based methods that makes of algorithms and databases to predict protein function. So algorithms and databases can be fruitful means to carry out functional and structural annotation of hypothetical proteins that are based on experimental results. Recent time these sorts of approaches have got much popularity [
9-
11
].
Sequence is less evolutionary conserved than structure; for this reason, analysis of three-dimensional (3D) structures holds the great possibility. Our existing study describes the first 3D model of the Shigella flexneri serotype 5b (strain 8401) hypothetical protein yjaB obtained through homology modelling. As well as, primary and secondary sequence-structure analysis, functional annotation nd subcellular localization prediction were also performed and is expounded.

Table 3:
Ramachandran plot statistics of the predicted 3d model for the target protein yjaB.
Materials and Methods
Sequence retrieval
Analysis of physicochemical properties
Subcellular localization prediction
Homology identification
Domain analysis
The hypothetical protein yjaB
Shigella flexneri
serotype 5b (strain 8401) was analyzed for the presence of conserved domains based on sequence similarity search with close orthologous family members. For this purpose, different bioinformatics tools and databases including Proteins Families Database (Pfam) [
17
], NCBI Conserved Domains Database (NCBI-CDD) [
18
], CDART and SUPERFAMILY [
19
] were used. Pfam is a database of protein families that includes their annotations and multiple sequence alignments generated using hidden Markov models. NCBI-CDD is a protein annotation resource that consists of a collection of well-annotated multiple sequence alignment models for ancient domains and full-length proteins. CDART finds protein similarities across significant evolutionary distances using sensitive domain profiles rather than direct sequence similarity. The SUPERFAMILY annotation is based on a collection of hidden Markov models, which represent structural protein domains at the SCOP superfamily level. A superfamily groups together domains which have an evolutionary relationship. The annotation is produced by scanning protein sequences from over completely sequenced genomes against the hidden Markov models [
20
].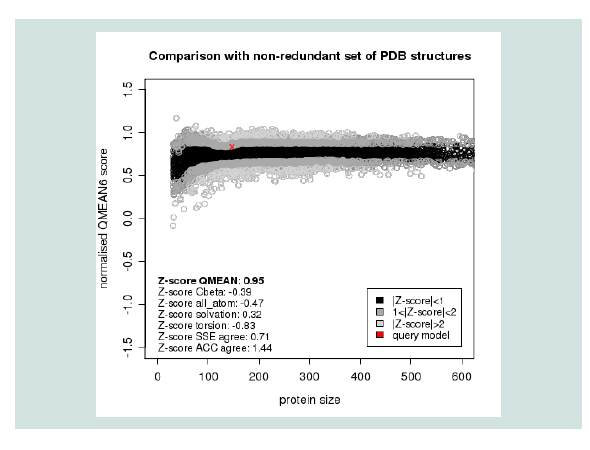 Figure 3:
Graphical presentation of estimation of absolute quality of model by Qmean6 server. Here the red star indicates the position of the model.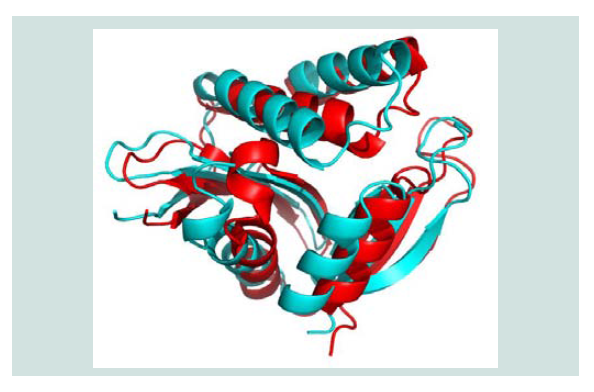 Figure 4:
Three dimensional structure superposition of the template and predicted model. Here, in figure, the template 2KCW (shown as red color) and the hypothetical protein yjaB (shown as cyan color).The RMSD value for this superposition is 1.84 Å.
Multiple sequence alignment and secondary structure analysis
The hypothetical proteins were predicted using similarity search in BLASTp against Non-redundant (NR) database and HHP red based on hidden Markov model against protein databases such as PDB. The Acetyltransfarase yjaB and selected six proteins of subjected to multiple alignments using Clustal O and analyzed for sequence conservation. The secondary structures were predicted using EsPript 3.0 [
21,22
]. The hypothetical proteins were also subjected to protein disorder prediction using consensus prediction method.
Figure 5:
Multiple sequence alignment of different acetyltransfarase protein with secondary structure analysis. Here, the gi|123146460| is for the protein yjaB andthe secondary structure, α helix and the β sheet, are shown on the top of the alignment.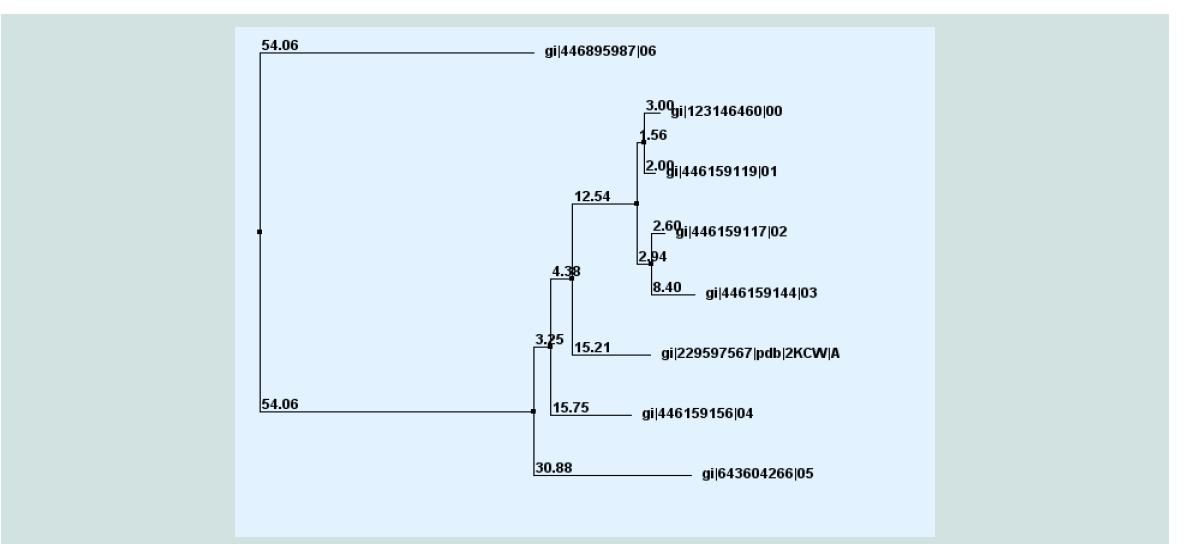 Figure 6:
Phylogeny analysis of different acetyltransfarase protein of different sp. with target protein yjaB (gi|123146460|) with true distance.
Homology modelling
Homology modelling was used to determine the 3D structure
Shigella flexneri
serotype 5b (strain 8401). A BLASTp [
23
] search with default parameters was performed against the Brookhaven Protein Data Bank (PDB) to find suitable templates for homology modelling. PDB ID: 2KCW_A was identified as the best template based on sequence identity (97%) between query and template protein sequence. The tertiary structure was predicted by ModWeb [
24
].

Figure 7:
Active sites (Spherical view) identification of the protein yjaB. Here, the amino acid residues in the active sites are depicted with labeled view for bettervisualization.
Model quality assessment
Finally, the quality of the predicted structure was determined by PROCHECK [
25
] and QMEAN6 [
26
] programs of ExPASy server of SWISS-MODEL Workspace [
27
]. Furthermore, Root mean squared deviation (RMSD), superimposition of query and template structure, and visualization of generated models was performed using UCSF Chimera 1.5.3 [
28
].
Phylogenic tree construction
The phylogeny analysis was done by Phylogeny. Lirmm http:// phylogeny.lirmm.fr/phylo_cgi/index.cgi [
29
].
Active site determination
Active site of the protein was determined by the computed atlasof surface topography of proteins (CASTp) (http://sts.bioengr.uic. edu/castp/) [
30
] which provides an online resource for locating, delineating, and measuring concave surface regions on threedimensionalstructures of proteins.
Results and Discussion
Numerous web tools were used to fetch the conserved domains and potential function of yjaB. Based on consensus predictions made by Pfam, NCBI-CDD, CDART and SUPERFAMILY, those suggested that yjaB contains Acyl CoA N acyltransferases( Nat) super family domains. Pfam server predicted the Acetyltransfarase at 13-122 amino acid residues with an e-value of 1.3e-11. Acyl CoANacyltransferases( Nat) super family was also found in NCBI-CDD server at 52-102 amino acid residues with an e-value of 3.37e-04. Conserved Protein Domain Family (CDART) was also predicted the members of this family act as acetyltransfarase. In the SUPERFAMILY server, the domain was found at 3-139 amino acid residues with an e-value of1.92e-25.
Conclusion
We have used an in silico approach to predict the first 3D structure and possible functions for the Shigella flexneri serotype 5b (strain 8401) hypothetical protein yjaB. With the assistance of a clearly expressed structure and annotations, we can anticipate protein functional and binding sites that can help in understanding what biological role it may play in bacillary dysentery or shigellosis. All the above findings suggested that the function of the target protein is "acetyltransfarase". Hopefully, this comprehensive studies on this track might produce some breakthrough leads for offing research.
Acknowledgements
The authors sincerely acknowledge Arafat Rahman Oany (Student of Biotechnology and Genetic Engineering Department) for providing the necessary suggestions and facilities throughout the study.