International Journal of Otorhinolaryngology
Download PDF
Review Article
Tumours of Salivary Glands in Sudan
Sharfi Ahmed1*, Yousif OY2 and Abuzeid M3
1ORL head and neck surgery, University of Omdurman Islamic, Sudan
2University of Khartoum, Sudan
3University of Bahr El Ghazal, Sudan
*Address for correspondence:
Sharfi Ahmed, Faculty of Medicine, ORL head and neck surgery, University of Omdurman Islamic, P.O.Box: 8019 khartoum, Sudan, E-mail:
doctorsharfi@gmail.com
Citation: Ahmed S, Yousif OY, Abuzeid M. Tumours of Salivary Glands in Sudan. Inter J Otorhinolaryngology. 2018;5(1): 5.
International Journal ofOtorhinolaryngology | ISSN: 2380-0569 | Volume: 5, Issue: 1
Submission: 2 February, 2018| Accepted: 5 March, 2018 | Published: 12 March, 2018
Copyright: © 2018 Ahmed S, et al. This is an open access article distributed under the Creative Commons Attribution License, which permits unrestricted use, distribution, and reproduction in any medium, provided the original work is properly cited.
Abstract
Abstract: Benign and malignant tumors are rare conditions; it wasnot uncommonly occurs in salivary glands and usually presented asa painless mass. The presence of pain and facial nerve palsy mayindicate malignant transformation. Diagnosis is made by imaging andbiopsies.
Objectives: This study aims to know the pattern of Benign andmalignant tumors in salivary glands among Sudanese patients inKhartoum state according to many categories age, gender, clinicalpresentation and diagnosis.
Methods: This is retrospective, cross- sectional, analytic andhospital based study from January 2014 to May 2016. Conductedin Otorhinolaryngological, Head and neck and Oral Maxillofacialhospitals in Khartoum state in Sudan.
Results: The highest percentage of neoplasm is benign morecommonly as pleomorphic adenoma in minor glands. Malignanttumor is commonly affected the parotid glands of predominance inadenoid cystic carcinoma followed by mucoepidermoid carcinoma.
Conclusion: Benign and malignant tumors which occur in salivaryglands were commonly pleomorphic adenoma and adenoid cysticcarcinoma respectively.
Keywords
Salivary glands benign; Malignant tumors
Introduction
Shafcat from Kashmir had undertaken a period of two years with particular reference to age, sex, site and histological types as per WHO classification. Out of 100 cases diagnosed on FNAC histopathological examination was done only in 66 cases. Diagnosis correlated with FNAC diagnosis in 65 cases with accuracy of 98.4%. The principal site was the parotid (70%).
Patients and Methods
This retrospective hospital based cross-sectional study from January 2014-May 2016. Study was done in Khartoum ENT hospital, Ibnsina specialized hospital, Khartoum dental teaching hospital and Africa specialized hospital. For 73 patients presented to these hospitals complaining of salivary glands swelling. In this study the authors included all patients presented with salivary gland tumours. And they excluded all patients with secondary metastasis to salivary glands and severely ill patients.
Data collection: Detailed will structured questionnaire was filled for each hospital respondent after obtaining the consent.
Data management and analysis: Data analyzed using statistical Package for Social Sciencel.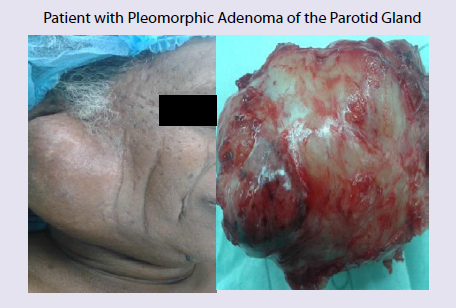 Ethical clearance: I explained verbally to any patient the aim of the study, data collection, the need of investigations and regular follow up. Privacy of patient is the most of our priority.
Results
The number of patients included in this study was 73. Collected from 2 departments Otorhinolaryngology and Oro-maxillofacial departments in Khartoum hospitals.
Discussion
Conclusion
The most common neoplasm of salivary gland is the benign tumors, mainly the pleomorphic adenoma and the majority of them in the parotid gland in young adults. Mucoepidermoid carcinoma is the most common malignant tumor predominantly seen in female and in minor salivary glands. Facial nerve palsy seen mainly in malignant tumors and FNAC is a useful method in diagnosis. CT scan has a grateful role in diagnosing the neoplastic lesion.