Journal of Orthopedics & Rheumatology
Download PDF
Case Report
Topical Phytotherapy is the Nobel Approach for Revision of Total Knee Replacement: A Unique Case Study
Apurba Ganguly*
Founder and Head Researcher, OPTM Research Institute, India
---
Address for Correspondence: 
Apurba Ganguly, Founder and Head Researcher, OPTM Research Institute, 145 Rashbehari Avenue, Kolkata - 700029, India, Tel: +919830389616; E-mail:
apurbaganguly15@gmail.com
Citation: Ganguly A. Topical Phytotherapy is the Nobel Approach for Revision of Total Knee Replacement: A Unique Case Study. J Orthopedics Rheumatol. 2018;5(1): 5.
Journal of Orthopedics & Rheumatology | ISSN: 2334-2846 | Volume: 5, Issue: 1
Submission: 12 March, 2018| Accepted: 25 April, 2018 | Published: 04 May, 2018
Copyright: © 2018 Ganguly A. This is an open access article distributed under the Creative Commons Attribution License, which permits unrestricted use, distribution, and reproduction in any medium, provided the original work is properly cited.
Abstract
Knee-osteoarthritis (KOA) can only be treated by total knee replacement (TKR), which is a well-known surgical intervention in the globe. But in some cases, TKR failed in the operated knee-joint as well as non-operated knee-joint may pose risk of KOA. In general, patients are advised to undergo revision of TKR when two prostheses of femoral and tibial compartments are prolapsed or loosen or such other reasons as well as non-operating knee-joint needs to be operated urgently. The phytotherapy with Indian medicinal plants are well-established. The present case study was aimed to determine the efficacy of topical phytotherapeutic treatment for 90 days in order to prevent the revision of TKR, improve the pain and functional performance in daily activities in four Indian patients. After 90 days of topical phytotherapy treatment, the results were observed a significant decrease in pain in both the legs and lower back under visual analogue scale (p<0.05), improvement of pain (p<0.05), stiffness (p<0.05) and physical function (p<0.05) under WOMAC Index, a significant improvement in the Karnofsky scale (<0.05), reduction of obesity confirmed by body mass index (p<0.05) and normal radiological features. In conclusion, failed TKR can be treated by phytotherapy without further revision evidenced by normalization of above-mentioned parameters.
Keywords:
Knee osteoarthritis; Total knee replacement; Topical phytotherapy; Revision of knee-joints by phytotherapy
Introduction
Total knee replacement (TKR) is a common and ultimate treatment of knee osteoarthritis (KOA) in India and other parts of the globe. Basically, the concept of TKR is mainly to relief pain and improvement of performance in daily activities [
1,2
]. However, TKR is done on the basis of different prostheses design such as cruciate retaining, posterior stabilized and high flexion posterior stabilized prostheses [
2-6
]. According to Julin J et al. there is a risk of prosthesis failure in young age groups of <55 years old due to infection, obesity, physical activity, loosening, osteolysis, etc. and needs revision for further prosthesis [
7-9
]. In an earlier study, surgical outcome revealed dissatisfaction in patients [
10
]. In the present report, it was aimed to detect efficacy of topical phytotherapeutic treatment for preventing the revision of TKR with normalization of daily functional activities without pain, reduction of body weights and also improved the damaged knee-joints in four Indian patients.
Due to the rarity of this condition, it may be missed on initial presentation or misdiagnosed as a sprain leading to delay in proper diagnosis and subsequent treatment. Recent articles in the medical literature are now focused on the diagnosis, management, surgical options, and identification of independent risk factors. Although case reports and a small three patient case series of pectoralis major repairs in active duty U.S. military personnel have been previously reported, there has never been an investigation of pectoralis major tears in forward deployed active duty troops [
8-10
]. The purpose of our study is to report on the causes of a series of pectoralis major tears at one expeditionary medical treatment facility (MTF) over a four month deployment cycle, identify any patient specific risk factors and to confirm that in-theater surgical repair is possible in most cases.
Case Study
Discussion
The present case reports indicate the failure in TKR and osteoporosis after TKR with pain and non-performance of daily activities for which alternative treatment with specialised topical phytotherapy for 90 days would be considered to be best. Generally, the TKR supports to relief pain and improvement of performance in daily activities [1,2]. Further revision on TKR may be stressful, risk and expensive but specialized topical phytotherapeutic treatment after 90 days to the studied patients are suitable therapy where substantial improvement in pain, stiffness, functional and performance abilities, BMI with highly statistically significant values (p<0.05), knee gaps, osteoporosis and osteophytes in non-operated knee-joint and knee flexion were observed (
Table 3
) (
Figures 1C,1D,2C,2D,3C,3D,4C,4D,5 and 6)
.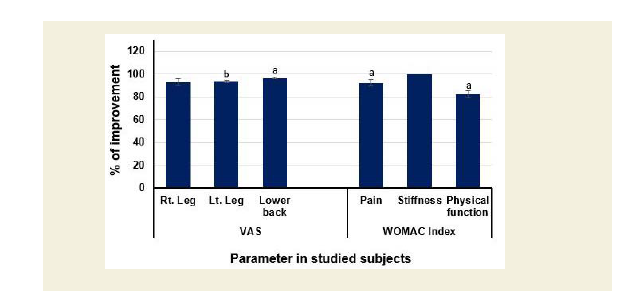 Figure 5:
Percentage improvement of parameters under VAS and WOMAC Index of four patients who had undergone TKR (
a
P<0.001;
b
P<0.05).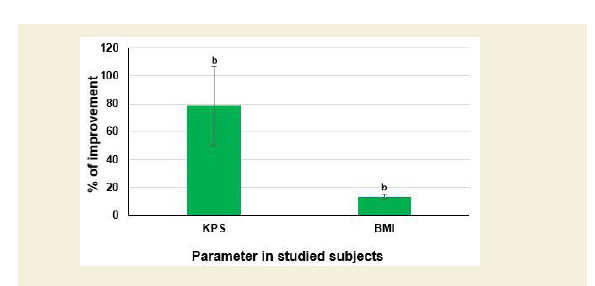 Figure 6:
Percentage improvement under Karnofsky performance scale and body mass index of four patients who had undergone TKR (
b
P<0.05).
Conclusion
The aim of the TKR is to reduce the pain, increase the functional ability and the gap between the femoral and tibial compartments. The present study firmly confirmed with normalization of prolapsed prostheses by increasing the gap between the compartments of the operated and non-operated knee-joints as evidenced by X-ray images and diminishing pain, stiffness and improvement of physical functional and performance abilities and reduction of inflammation as well as obesity confirmed by BMI with the help of topical phytotherapeutic method within 90 days (
Table 3
) (
Figures 1C,1D,2C,2D,3C,3D,4C,4D,5 and 6)
.
Further researches should be undertaken on:
1. Deranged anatomical and abnormal biochemical featuresafter TKR,
2. Phytochemicals characterization by using Mass Spectroscopy,
3. Measurements of collagen and 4-hydroxyplroline (O-Hyp)
to show collagen formation, which takes place with thetreatment, and
4. Measurements of hyaluronic acid both in volume andchemical compositions before and after the treatment todetect how the phytochemicals changing the chemicalcompositions of hyaluronic acid.