Journal of Ocular Biology
Download PDF
Research Article
Safety of Superior-Temporal Intravitreal Injections using the Cotton-Tip Applicator Lid-Retraction Technique
Eric M. Shrier1,2*, Joseph Raevis1, Johnny Li2, Amirfarbod Yazdanyar1, Zaki Azam2 and Fahd Yazdanie2
Department of Ophthalmology, SUNY Downstate Medical Center, Brooklyn, USA
---
*Address for Correspondence:
Eric M. Shrier, DO, 142 Joralemon Street, Brooklyn NY, 11201-4747, USA. Tel: 718-596-6800; E-mail:
eshrier@yahoo.com
Citation: Shrier EM, Raevis J, Li J, Yazdanyar A, Azam Z. Safety of Superior-Temporal Intravitreal Injections using the Cotton-Tip Applicator Lid-RetractionTechnique. J Ocular Biol. 2017;5(1): 4.
Copyright: © 2017 Shrier EM, et al. This is an open access article distributed under the Creative Commons Attribution License, which permits unrestricted use, distribution, and reproduction in any medium, provided the original work is properly cited.
Journal of Ocular Biology| ISSN: 2334-2838 | Volume: 5, Issue: 1
Submission: 10 February, 2017 | Accepted: 09 March, 2017 | Published: 20 March, 2017
Keywords
Superior; Temporal; Intravitreal injection; Cotton-tip applicator; Lid speculum
Abstract
Purpose: To demonstrate the safety of superior-temporal intravitreal injections using the cotton-tip applicator (CTA) lid-retraction technique.
Methods: Retrospective chart review of superior-temporal IVT injections over a 10-year period.
Results: Data from 2,227 superior temporal IVT injections were analyzed from 479 patients. The CTA method for lid retraction was utilized in 477 (99.6%) of the patients. No cases of endophthalmitis were reported and complications were limited to one vitreous hemorrhage, a single (aphakic) retinal detachment requiring repair, one patient with elevated intraocular pressure required anterior chamber paracentesis and five significant subconjunctival hemorrhages noted at the time of injection. A total of 1712 (76.2%) Bevacizumab, 484 (21.5%) aflibercept, 50 (2.2%) ranibizumab IVT injections were included.
Conclusions: Superior-temporal injections with CTA guided elevation of the superior eyelid instead of a lid speculum is a safe and efficient method for IVT injection.
Abbreviations
ARMD: Age-Related Macular Degeneration; BRVO: Branch Retinal Vein Occlusions; CRVO: Central Retinal Vein Occlusions; CSCR: Central Serous Chorioretinopathy; CNV: Choroidal Neovascularization; CSDME: Clinically Significant Diabetic Macular Edema; CTA: Cotton-Tip Applicator; CME: Cystoid Macular Edema; HRVO: Hemi-retinal Vein Occlusions; IVT Intravitreal; NPDR: Non-proliferative Diabetic Retinopathy; PDR; Proliferative Diabetic Retinopathy; SRNVM: Subretinal Neovascular Membranes
Introduction
Materials and Methods
The Institutional Review Board of SUNY Downstate Medical Center approved all aspects of this research project and it was in compliance with the regulations set forth by the Health Insurance Portability and Accountability Act. This was a retrospective chart review of single physician (E.S.) performed IVT injections at two outpatient clinics associated with SUNY Downstate Medical Center from February 2005 through June 2016. Charts were identified for inclusion through a billing record search for procedure code 67028. Intravitreal medicines injected included: bevacizumab, aflibercept and ranibizumab.
Data from IVT injections included 2,277 eyes of 479 different patients and included the date of injection, age, race, gender, laterality, diagnosis, lens status, drug injected, speculum use, pre-injection visual acuities, and pre-operative intraocular pressure. Complications, which were recorded, if applicable, were endophthalmitis, vitreous hemorrhage, retinal detachment, cataract, subconjunctival hemorrhages, lenticular damage, cataract development requiring extraction, if an anterior chamber paracentesis was required for post-injection highly elevated intraocular pressure and central retinal artery hypo-perfusion. These complications were recorded at the time of injection or at subsequent office visits (
Table 1
).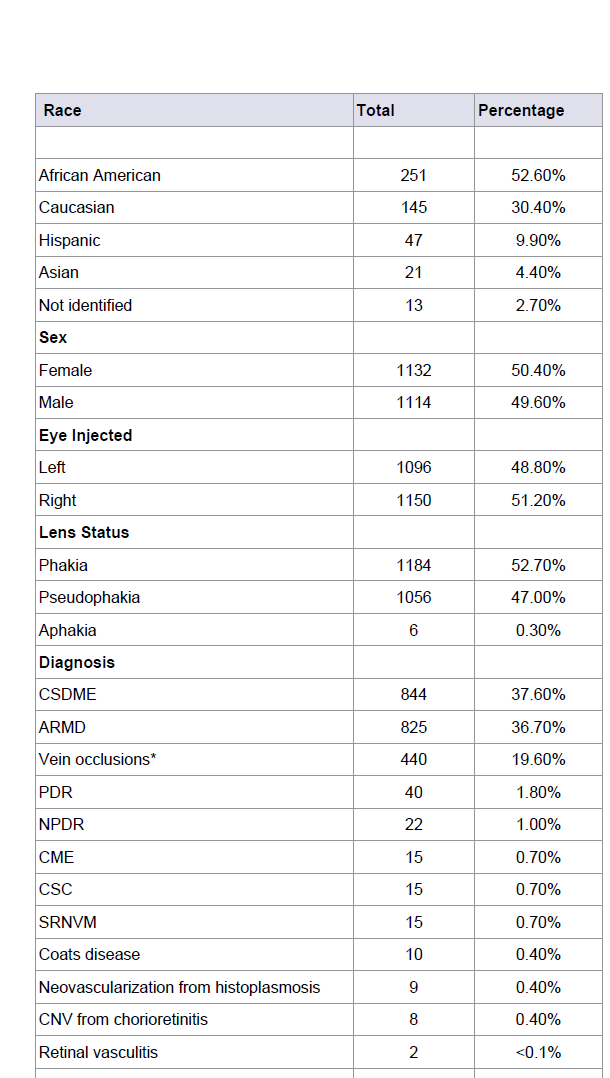 Table 1:
Demographic information of the 477 patients who received a total of 2,246 intravitreal injections in the superior temporal quadrant using the cotton tipped applicator method.
Injection technique
The treating Physician (E.S.) wears non-sterile gloves and a mask is not worn by provider or patient. Talking is avoided over the injection site during the procedure. The CTA method is presented in full detail in the journal, Retina [
20
].
In preparation for injection, patients receive one drop of 0.5% tetracaine hydrochloride, followed by Vigamox. Phenylephrine 2.5% is instilled if conjunctival hyperemia is present. The lid margins, followed by the periorbital skin is then circumferentially wiped with sterile 4 x 4 gauze wetted with 10% povidone-iodide. The patient is then instructed to open the eyelids and look up toward the back of the head, as a drop of the 10% povidone iodide is dropped into the lower fornix. Then another drop of 0.5% tetracaine is instilled, followed by several drops of a 4th generation fluoroquinolone antibiotic (usually Vigamox) to the lower fornix. The upper lid is lifted and pouted with the initial povidone-iodide soaked 4X4 and the patient is asked to look infero-nasally while a CTA wetted with 0.5% tetracaine and 4th generation fluoroquinolone is placed under the lateral one third of the superior eyelid, resting near the planned injection site. The patient is instructed to close the eyes. After approximately 30-60 seconds, the patient is instructed to open the eyes and look inferior and nasally as the practitioner retracts the upper lid with the cotton tipped applicator, exposing the superior-temporal location for injection and helping to stabilize the globe. Injection sites were approximately 3-3.5 mm from the limbus for all injections. Conjunctival displacement was not utilized. The cotton-tip is moved over the injection site to minimize reflux. After the injection, visual acuity was tested by finger-counting to check for central retinal artery perfusion. IOP is not commonly checked. Patching with antibiotic ophthalmic ointment was rarely performed if the patient had complained of protracted discomfort after prior injections. Signs of endophthalmitis are discussed with the patient and a follow up appointment was made per individualized treatment protocol.
Results
A total of 2277 IVT injections were performed in the superior temporal quadrant on 479 patients with a mean age of 70.5 (range, 23 to 99). The injection procedure was successfully completed using the unique CTA method in 477 patients, 99.6% of the total 479 charts reviewed. Two patients, who received 31 injections, required use of the standard lid speculum; their data is not included in the following data analysis.
Discussion
The most common method for IVT injections is to use a speculum and also to place the injection in the inferior and temporal region of the eye [
9,10
]. In this retrospective study, which is the first to explicitly describe the complications of superior temporal IVT injections, we demonstrated the safety of this technique and ability to avoid speculum utilization, which can be uncomfortable for patients [
20,21
].
The CTA method with superior-temporal injection described in this study appears to be safe and able to be utilized on a wide variety of patients, as it was used with 477 (99.6%) of the 479 of the patients in this study. Only two patients required use of the standard lid speculum due to excessive lid squeezing, which precluded adequate visualization of the superior-temporal location. The exposure and visualization afforded by the CTA method are comparable yet appear to be more comfortable to the speculum method. CTA method appears to be faster than use of a speculum and another potential benefit is that there is no cost associated with acquiring and/or sterilizing a speculum when using a CTA. Additionally, the CTA is able to help anesthetize the region to be injected, to soften the eye as well as serve as a lever to elevate the upper lid and stabilize the globe during the injection procedure.
No patient had endophthalmitis, one case of a vitreous hemorrhage and one retinal detachment requiring surgery were reported. Sixteen patients who were phakic entering the study developed cataracts significant enough to require cataract extraction, but none of these cataracts were felt to be due to direct lenticular damage related to the intravitreal injection. The use of the same CTA that is used to apply anesthesia and antibiotics to the superior-temporal location we believe to be more comfortable because of less manipulation of the eye and ocular adnexa in a quicker time frame. The low rate of reported subconjunctival hemorrhage is probably attributable to its superior temporal placement meaning that the site is covered by the upper eyelid, and the CTA may also help to soften the eye, given the low rate of anterior chamber paracentesis.
The limitations of this study include its retrospective design, no control group and lack of power to examine any change in rate of postoperative endophthalmitis. It is possible that the lack of follow up shortly after the IVT injections may have contributed to the low incidence of reported subconjunctival hemorrhages. As a result, no data on the patient's follow up rate or compliance may erroneously depress the reported rates of all complications. The advantages of our study include its relatively large sample size, persistency of injection technique and comprehensive data collection. Our large sample size was well balanced in terms of gender, laterality of the eyes injected, lens status, and diversity of races and ethnicities represented.
In conclusion, we showed that superior-temporal injections along with CTA guided elevation of the superior eyelid instead of a speculum is a safe method for IVT injections. We believe this injection method to be superior to the variety of currently practiced techniques. Comfort level of patients is noted to be high, but there was no formal questionnaire assessment. In the future, the comfort of this technique may be compared to other lid retraction methods.