Download PDF
Research Article
A Novel Oncolytic Herpes Simplex Virus Design based on the Common Overexpression of microRNA-21 in Tumors
Marzulli M1, Mazzacurati L1, Zhang M1, Goins WF1,Hatley ME2, Glorioso JC1 and Cohen JB 1*
1Department of Microbiology and Molecular Genetics, University of Pittsburgh School of Medicine, Pittsburgh
2Department of Oncology, St. Jude Children's Research Hospital, USA
---
*Address for Correspondence:
Cohen JB, Department of Microbiology and Molecular Genetics, University of Pittsburgh School of Medicine, 412 Bridgeside Point II, 450 Technology Drive, Pittsburgh, PA 15219, USA, Phone: +1 412-648-9097, Fax: +1 412-624-8997; Email:
jbc@pitt.edu
Citation: Marzulli M, Mazzacurati L, Zhang M, Goins WF, Hatley ME, et al. A Novel Oncolytic Herpes Simplex Virus Design based on the Common Overexpression of microRNA-21 in Tumors. J Gene Ther 2018; 3(1): 8.
Copyright © 2018 Marzulli M, et al. This is an open access article distributed under the Creative Commons Attribution License, which permits unrestricted use, distribution, and reproduction in any medium, provided the original work is properly cited.
Journal of Gene Therapy | ISSN: 2381-3326 | Volume: 3, Issue: 1
Submission: August 27, 2018 Accepted: October 15, 2018 Published: October 18, 2018
Abstract
Background: Recognition sequences for microRNAs (miRs) that are down-regulated in tumor cells have recently been used to render lytic viruses tumor-specific. Since different tumor types downregulate different miRs, this strategy requires virus customization to the target tumor. We have explored a feature that is shared by many tumor types, the up-regulation of miR-21, as a means to generate an oncolytic herpes simplex virus (HSV) that is applicable to a broad range of cancers.
Methods: We assembled an expression construct for a dominantnegative(dn) form of the essential HSV replication factor UL9 and inserted tandem copies of the miR-21 recognition sequence (T21) in the 3' untranslated region. Bacterial Artificial Chromosome (BAC) recombineering was used to introduce the dnUL9 construct with or without T21 into the HSV genome. Virus was produced by transfection and replication was assessed in different tumor and control cell lines.
Results: Virus production was conditional on the presence of the T21 sequence. The dnUL9-T21 virus replicated efficiently in tumor cell lines, less efficiently in cells that contained reduced miR-21 activity, and not at all in the absence of miR-21.
Conclusion: miR-21-sensitive expression of a dominant-negative inhibitor of HSV replication allows preferential destruction of tumor cells in vitro. This observation provides a basis for further development of a widely applicable oncolytic HSV.
Keywords
Herpes simplex virus; Oncolytic viruses; miRNA-21; Dominant-negative UL9 gene
Abbreviations
HSV: Herpes Simplex Virus; miR: microRNA/miRNA; dn: Dominant Negative; BAC: Bacterial Artificial Chromosome; oHSV: Oncolytic HSV; IE: Immediate Early; MEF: Mouse Embryonic Fibroblast; FIGE: Field Inversion Gel Electrophoresis; gc: Viral Genome Copies; pfu: Plaque Forming Unit; MOI: Multiplicity of Infection; qRT-PCR: Quantitative Reverse Transcription PCR; fLuc: Firefly Luciferase; rLuc: Renilla Luciferase; ORF: Open Reading Frame; dpi: Days Post Infection
Introduction
Materials and Methods
Cell culture
Plasmids
Luciferase assay
HSV genome engineering
Virus production, growth curves and plaque sizes
qPCR for viral genomes
qRT-PCR for miR-21 levels
Statistical analyses
Results
Validation of a miR-21 response element
We used a luciferase assay to test the functionality of a miR-21 response element (T21) consisting of four tandem copies of the reverse complement of mature miR-21 separated by different 8-nucleotide spacers. As a control, we created a similar element incorporating four tandem copies of the reverse sequence of mature miR-21 (Tcon). We inserted Tcon and T21 into the 3'UTR of a firefly luciferase (fLuc) expression plasmid (pfLuc-Tcon and pfLuc-T21, respectively) and performed co-transfection experiments with a Pre-miR-21 or AntimiR- 21 RNA on human U2OS and monkey Vero cells; human and monkey miR-21 are identical in sequence [
48
]. Co-transfections were performed in the presence of a renilla luciferase (rLuc) expression plasmid (prLuc) for normalization. (
Figure 2
) shows that pfLuc-T21 co-transfection with Pre-miR-21 significantly reduced fLuc activity in both cell lines at 24 h compared with mock co-transfection, while co-transfection with Anti-miR-21 resulted in significantly increased fLuc activity. In contrast, the same co-transfections with pfLuc-Tcon revealed no significant differences in either U2OS or Vero cells. These results demonstrated that the T21 sequence, unlike the Tcon sequence, is responsive to miR-21.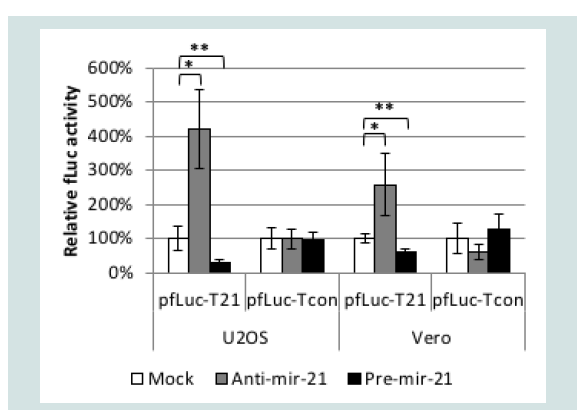 Figure 2:
Functionality of the T21 element. U2OS and Vero cells were cotransfected in triplicate with pfLuc-T21 or pfLuc-Tcon, synthetic Anti-miR-21 or Pre-miR-21, and prLuc. Cell extracts prepared 24 h later were assayed for fLuc and rLuc activity. fLuc values were normalized to rLuc values and are represented as % activity relative to no-miRNA (Mock) controls (100%).
*
p
<0.01;
**
p
<0.05 (unpaired t-test).
Engineering and miR-21-dependent viability of dnUL9 recombinant viruses
We used double Red recombination in E. coli to introduce a dnU
L
9 expression construct without (dn9) or with (dn9T21) the T21 element from pfLuc-T21 into the 3'UTR of the U
L
53 gene of 3L
BAC
, a bacterial artificial chromosome (BAC) containing a modified version of the HSV-1 strain KOS genome (
Figure 3
) [
46
]. The insertion separated the U
L
53 gene from its polyadenylation (polyA) signal and we therefore included the SV40 early polyA region directly upstream of the dnU
L
9 cassette to allow proper processing of the U
L
53 primary transcript (
Figure 3C
). The Rous Sarcoma Virus (RSV) promoter was used to direct dnU
L
9 transcription in order to achieve expression prior to the onset of transcription of the resident early U
L
9 gene. Like KG
BAC
described previously [
9
], 3L
BAC
is deleted for the internal repeat (joint) region separating the unique long (U
L
) and short (U
S
) segments of the HSV genome, the open reading frame (ORF) of glycoprotein C (U
L
44), a late gene, is fused in frame via a 2A peptide sequence to the enhanced green fluorescent protein (eGFP) ORF to allow visual monitoring of post-replication viral gene expression [
49,50
], and the BAC elements, including a LacZ expression cassette, are straddled by loxP sites for removal by Cre recombinase (
Figure 3B
); 3L
BAC
differs from KG
BAC
by the absence of mutations in the gB gene. Insertion of the dn9 and dn9T21 cassettes produced recombinants 3Ldn9
BAC
and 3Ldn9T21
BAC
, respectively. Isolates were confirmed by FIGE analysis of restriction enzyme digests along with PCR and sequencing across the insertion boundaries.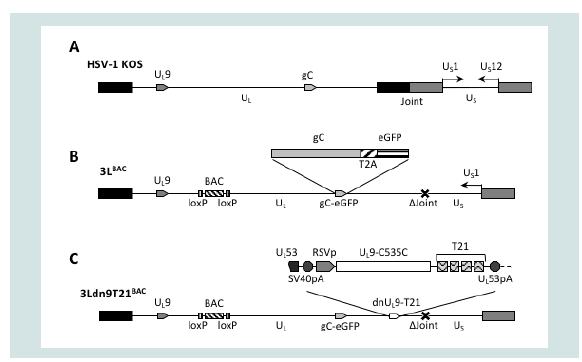 Figure 3:
Structures of the HSV-1 genome and engineered BAC constructs. (A) Schematic representation of the linear strain KOS genome. U
L
, unique long segment; U
S
), unique short segment; joint, internal repeat region separating U
L
and U
s
. Boxes, inverted repeats flanking U
L
(black) and U
s
(grey). The relative positions of the U
L
9 and gC genes and the orientation of the U
s
1 (ICP22) nd U
s
12 (ICP47) genes (prototype isomer [69]) are indicated. (B) Linear epresentation of the 3L
BAC
genome. The illustration includes the BAC/lacZ region between loxP sites in the U
L
37/U
L
38 intergenic region, the C-terminal extension of the gC ORF with a T2A-eGFP fusion, and the deletion (Δ) of the entire joint. Note that the U
s
segment is in the reverse reverse orientation relative to U
L
such that U
s
1 is transcribed while the joint deletion eliminates the U
s
12 promoter. (C) The 3Ldn9T21
BAC
genome illustrating the position and structure of the miR-21-sensitive dnU
L
9 expression cassette inserted into the 3L
BAC
backbone. Functional elements of the insertion between theU
L
53 ORF and polyA (pA) signal include the SV40 polyA region, the RSV promoter (RSVp), the dnU
L
9 ORF (U
L
9-C535C), and the repeat copies of the miR-21 recognition sequence (T21).
Two confirmed isolates of each recombinant and 3LBAC as a control were transected into a Cre-expressing U2OS cell line (U2OSICP4-Cre). We observed plaque formation by both of the 3LBAC and both of the 3Ldn9T21BAC isolates, but not by either 3Ldn9BAC isolate. This initial observation was consistent with the interpretation that dnUL9 expression blocked virus replication and that in U2OS cells this block was reversed by the miR-21-responsive element in the dnUL9 T21 gene.
Cell specificity of dnUL9T21 virus growth
We isolated and amplified individual plaques from 3L
BAC
and 3Ldn9T21
BAC
transfections of U2OS-ICP4-Cre cells and used X-gal staining to identify loxP recombinants; accurate Cre-mediated removal of the BAC-lacZ region between the loxP sites was confirmed by DNA sequencing. One BAC-deleted virus isolate from each transfection, referred to as 3L and 3Ldn9T21, respectively, was further amplified and the biological titers of the resulting stocks on Vero cells and three established human tumor lines representing different tumor types were determined by plaque assay. In addition, we determined the physical titers [in genome copies (gc)/ml] of the two stocks by real-time quantitative (q) PCR for the viral gD (U
s
6) gene [
9
]. The results in (
Table 2
). show that on each cell line, the difference between t/suhe two viruses in the number of input viral genomes required to produce a plaque (gc/pfu ratio) was less than 2-fold, indicating comparable entry efficiencies. However, while the 3L and 3Ldn9T21 plaques were similar in size on each of the three human cell lines, on Vero cells their sizes were dramatically different (
Figure 4A
). We measured the plaque sizes of both viruses on U2OS and Vero cells on days 4-7 post infection (dpi) and found that the 3L plaques on Vero cells were on average 4.4 fold larger than the 3Ldn9T21 plaques while the average difference on U2OS cells was only 1.2 fold (
Figure 4B
). This observation suggested that Vero cells may contain less functional miR-21 activity than U2OS cells, allowing higher dnU
L
9 expression resulting in reduced virus replication and spread to neighboring cells. It is likely that the relatively high gc/pfu value for 3Ldn9T21 on Vero cells shown in (
Table 2
). Can be explained at least in part by the reduced counting accuracy of small plaques.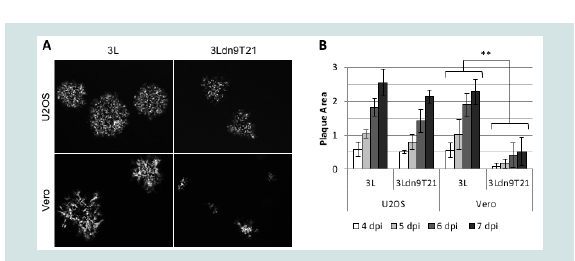 Figure 4:
Comparison of 3L and 3Ldn9T21 plaques on U2OS and Vero cells.(A) Plaques visualized by GFP fluorescence at 5 dpi. (B) Average plaque sizes ± SD measured at 4-7 dpi.
**
3L plaques were significantly larger than 3Ldn9T21 plaques on all 4 days (
p
<0.05).
To strengthen the correlation between miR-21 activity and 3Ldn9T21 replication, we examined the growth kinetics of 3L and 3Ldn9T21 on the 3 human tumor cell lines and Vero cells. Infections were performed at 1 gc/cell, total gc content in the media was determined at 1-5 dpi, and the fold increase over input was plotted as a function of time (
Figure 5
). While no significant differences in growth kinetics were observed between the two viruses on the 3 human tumor lines, 3Ldn9T21 growth on Vero cells was substantially slower than that of 3L. At 3 dpi, the yields of 3Ldn9T21 differed by less than 5-fold from those of 3L on U2OS, A431 and A549 cells, whereas he difference on Vero cells was approximately 300-fold. 3L growth on Vero cells reached a plateau at 3 dpi while slow 3Ldn9T21 growth continued at 5 dpi. These results supported the conclusion that the three human tumor lines contained enough functional miR-21 to block abundant dnU
L
9 production from 3Ldn9T21, thus allowing replication similar to 3L, while Vero cells lacked sufficient miR-21 activity for effective repression of the inhibitory gene function.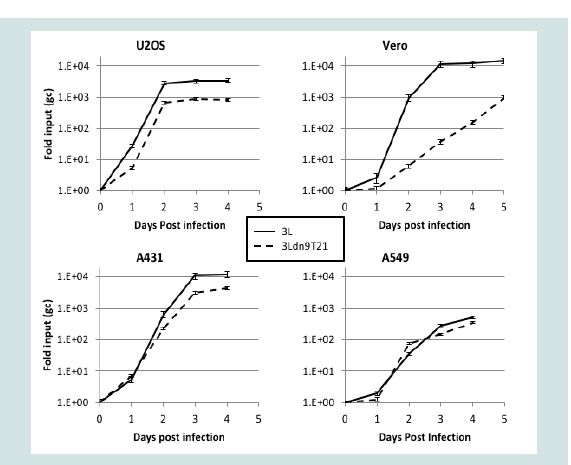 Figure 5:
Comparison of 3L and 3Ldn9T21 growth kinetics on Vero cells (
p
<0.0001) and human tumor lines. Cells were infected with 3L or 3Ldn9T21 at 1 gc/cell and total gc in the media of triplicate wells were measured at 1-5 dpi. Data is plotted as fold increase over input and statistical comparisons were performed by the method of Wang and Bushman [
47
].
Virus growth in miR-21 knock-out cells
Surprisingly, quantitative RT-PCR showed that the level of miR-21 was approximately 1.5-2 times higher in Vero cells than in U2OS and A549 cells but ~30-fold lower than in A431 cells when normalized to endogenous RNU43 levels (data not shown). However, it is unlikely that RNU43 levels are the same between these entirely unrelated cells lines such that the results of these types of comparisons can be misleading [
51
]; other endogenous normalization standards suffer from the same uncertainty. Therefore, to confirm the miR-21 dependence of 3Ldn9T21 virus growth, we used primary cultures of mouse embryonic fibroblasts (MEFs) isolated from wild-type (miR- 21
+/+
) and miR-21 knock-out (miR-21
-/-
) mice [
18,
52
]. We infected the cells at 1 or 10 gc/cell and determined the genome titers in the media at 24 hpi. As shown in (
Figure 6
), whereas 3L yields were comparable between the two cell lines, 3Ldn9T21 production was significantly impaired on the miR-21
-/-
MEFs compared to the miR-21
+/+
MEFs. These results supported the conclusion that 3Ldn9T21 replication is blocked in the absence of miR-21
Discussion
Suitable oncolytic viruses combine the often conflicting properties of high replication efficiency in and selectivity for tumor cells. HSV selectivity for cancer cells has been accomplished by deletion of one or more viral genes, such as the
ϒ1
34.5 neurovirulence gene [
53
], the U
L
39 viral ribonucleotide reductase (ICP6) gene [
54
], the U
s
3 protein kinase gene [
55,56
], and/or the U
s
12 gene [
57
] whose product, ICP47, blocks MHC class I antigen presentation [
58
]. However, while representatives of this type of oHSV have shown excellentsafety profiles in early-phase clinical studies, evidence of efficacy has remained anecdotal. This is likely due, at least in part, to incomplete complementation of the deleted viral function(s) in tumor cells, resulting in reduced replication efficiency. Accordingly, considerable effort has been directed in recent years toward the development of oHSVs that conditionally express the complete range of viral lytic functions. While several different strategies have shown promising results in animal models, the modifications designed to ensure the tumor selectivity of these viruses are invariably tailored to a specific tumor type. For example, expression of the
ϒ 1
34.5 gene under control of the nestin enhancer dramatically increased HSV replication in glioblastoma cell lines and primary glioma cells without increasing replication in astrocytes [
6
], but the nestin enhancer is highly active only in tumors of the nervous system. Thus, while the general strategy of transcriptional targeting is applicable to other tumors [
59
], the implementing control elements will be different depending on the tumor type. We and others have shown that tumor-specific HSV replication can also be achieved by the incorporation into essential genes of response sequences for miRNAs that are down-regulatedin the target tumor compared to its environment [
7-9
]. However, different sets of miRNAs are down-regulated in different tumors and thus this post-transcriptional targeting strategy also requires vector tailoring by tumor type [
12-14
]. A third method to limit lytic HSV replication to tumor cells is transductional retargeting involving disruption of the normal receptor recognition elements of the viral envelope (detargeting) and insertion of heterologous ligands for tumor-associated receptors to render virus entry dependent on recognition of the targeted receptor [
60-62
]. While certain receptors may be over-expressed in more than one tumor type, none are over-expressed as broadly in tumors as miR-21. Thus we sought to develop an oHSV backbone that would be dependent on miR-21 for replication to provide general protection of normal cells in the tumor environment without diminishing replication in a wide range of tumor cells. Our approach was thereby intended to combine the favorable aspects of traditional and newer oHSVs without the downsides of defective genes causing attenuation or the restricted applicability of a tumor-tailored virus. Importantly, accumulating evidence indicates that loss of miR-21 expression diminishes the neoplastic phenotype [
16,
21,
23
], suggesting that heterogeneity in intratumoral miR-21 levels will at worst spare only the least malignant cells.
Our study presents evidence that a miR-21-sensitive dominant inhibitor gene engineered into the HSV genome can limit virus replication in cells that express little or no active miR-21 while allowing vigorous replication in different types of tumor cells. Since miR-21 is associated with cell proliferation, we faced the difficulty of finding non-transformed cells that would grow in culture yet not express significant miR-21 to test for differential virus replication in normal and tumor cells in vitro. Although Vero cells are transformed and grow rapidly in culture, the results of our 3Ldn9T21 growth experiments led us to believe that these cells express less functional miR-21 than the 3 human tumor cell lines used in this study, U2OS, A431 and A549. However, when we measured the miR-21 levels in these cell lines relative to RNU43, the results did not correlate with the virus growth data. Instead, we used cultures of miR-21 knock-out MEFs to examine 3Ldn9T21 replication in the guaranteed absence of miR-21, and compared these host cells to matched wild-type MEFs to eliminate cell-type differences. The results demonstrated that 3Ldn9T21 was unable to replicate in the absence of miR-21 while it replicated to similar levels as the control 3L virus in the wild-type cells.
Our unexpected result from quantitative RT-PCR analyses that Vero cells appear to express more miR-21 than U2OS and A549 cells likely reflects the absence of reliable standards for normalization of miRNA levels between cells of diverse origin [
51
]. Our replication and luciferase data suggested that Vero cells do express a certain amount of miR-21, but 3Ldn9T21 grows slower in these cells than 3L while the two viruses grow at the same rate in U2OS, A431 and A549 cells, indicating that these human tumor lines express more functional miR-21 than Vero. We have performed qRT-PCR normalization to standards other than RNU43, such as RNU6B, and observed that the results vary prominently as a function of the standard. Thus we feel that functional assays like the ones used in this study offer a more reliable read-out of the activity of a specific miRNA than physical methods like qRT-PCR, Northern blots and RNA-Seq. Implicit in this suggestion is the possibility that only a portion of the specific miRNA is functional in a given cell.
While our study suggests proof of concept, our current vector is not optimized for the necessary studies of safety and efficacy in animal models. First, the KOS strain of HSV is less virulent than certain otherlaboratory strains and clinical isolates and thus oncolytic vectors derived from the KOS strain may not be optimally effective [
63,64
]. However, more aggressive vectors will require stronger safety features and it will be of interest to determine if our dn9T21 system will be adequate in these situations. Second, although in our experience the 3Ldn9T21 virus can be grown on miR-21-over-expressing tumor cells without selection of dnU
L
9 loss-of-function mutants (unpublished results), the emergence of such mutants in vivo as a result of tumor cell heterogeneity (varying levels of miR-21) can not a priori be excluded. In an unrelated study, we have found that the frequency of HSV transgene inactivation due to selective pressure can be dramatically reduced by insertion of a second copy of the transgene into the viral genome in such a manner that recombination between the 2 copies results in the formation of defective genomes [
65
]. Third, it has been reported that deletion of the joint diminishes virus replication in vivo [
66
], implying that restoration of the joint should be advisable although this would reduce the available space for insertion of transgenes that may enhance therapeutic efficacy.It remains to be determined, however, whether the joint deletion affects our vector in the same manner. In the published study [
66
], the in vivo replication deficit may have been caused by the loss of the joint-based ICP22 (U
S
1) promoter while in the genome isomer used to produce our vector (
Figure 3A
), the ICP47 (U
S
12) gene is located adjacent to the joint and the ICP22 gene is controlled by the remaining intact copy of the promoter in the US terminal repeat. As a result, the ICP47 gene is not expressed from our vector, which may facilitate immune recognition and clearance of infected tumors in vivo [
57
], while the replication-stimulatory function of ICP22 is preserved. Future studies will explore this issue and examine the benefits of using a more aggressive HSV strain and duplicate copies of the dn9T21 expression cassette as we move to evaluate our conditional replication control system in vivo.
Consistent with the evidence that miR-21 is expressed in proliferating cells [
19,
22,
67
], including unmodified MEFs [
18,
68
], we found that 3Ldn9T21 replicates as efficiently as 3L in wild-type MEFs, indicating that the dn9T21 system will leave certain normal cells unprotected. In adults, few organs contain a significant population of dividing cells and thus inoculation of the virus directly into solid tumors may have no deleterious effects. However, should evidence of off-target replication arise, tailored safety measures referred to earlier can be added to protect specific cells. Indeed, while our approach may provide a global strategy to limit lytic HSV replication to rapidly dividing cells, we recognize that certain applications may require additional modifications to the viral backbone. Once optimized, however, we anticipate that our platform will be suitable for the treatment of a wide variety of tumors without extensive backbone reengineering.