Journal of Cancer Sciences
Download PDF
Research article
Association of Hepatitis C with Hepatocelluar Carcinoma: A Cross-Sectional Study from Northern Pakistan
Fatima H1*, Mahmood H2 and Faheem M3
1Resident Oncology, Atomic Energy Cancer Hospital, NORI
2Head of Department Oncology, Atomic Energy Cancer Hospital, NORI
3Chief Oncologist and Director, Atomic Energy Cancer Hospital, NORI
*Address for correspondence:
Fatima H, Resident Oncology, Atomic Energy Cancer Hospital, NORI,Pakistan,E-mail:
hadia.fatima@hotmail.com
Citation: Fatima H, Mahmood H, Faheem M. Association of Hepatitis C with Hepatocelluar Carcinoma: A Cross-Sectional Study from Northern Pakistan.J Cancer Sci. 2018;5(1): 5.
Journal of Cancer Sciences | ISSN: 2377-9292 | Volume: 5, Issue: 1
Submission: 20 November, 2018| Accepted: 24 December, 2018 | Published: 26 December, 2018
Copyright: © 2018 Fatima H. This is an open access article distributedunder the Creative Commons Attribution License, which permitsunrestricted use, distribution, and reproduction in any medium, providedthe original work is properly cited.
Abstract
Aim:Hepatocellular Carcinoma (HCC) is one of the most deleterious among cancer types which is associated with high morbidity and mortality. The disease more commonly affects men usually in their fifth and sixth decade of life. Hepatitis C is considered to be the most common risk factor associated with hepatocellular carcinoma. The aim of our study was to determine the association of Hepatitis C with HCC among patients presenting at our hospital from Northern Pakistan and impact on management and prognosis.
Material and methods:A cross sectional study that was carried out over a period of one and half years included a total of 145 patients of hepatocellular carcinoma. The data was assessed and viral serology was done for all the patients. Analysis was done using SPSS version 22.
Results: Seventy three percent patients in our study group were positive for Hepatitis C. Most patients presented in late stages with poor performance status in the background of severe chronic liver disease and cirrhosis. Most common presenting symptoms were abdominal pain, distension and jaundice. Most patients were subjected to palliative and best supportive care and there was no candidate for curative surgical treatment.
Conclusion: The study concluded that Hepatitis C associated HCC is most common in our area yet the major burden of the disease is remains undetected due to lack of awareness and national screening programs leading to late presentation with incurable disease.
Keywords
Hepatocellular carcinoma; Hepatitis C; Risk factor; Abdominal pain; Jaundice
Objective
To determine the association of Hepatitis C virus as a risk factor in patients of hepatocellular carcinoma and to see the relationship of Hepatitis C positivity with prognosis.
Materials and Methods
Study Design: Descriptive cross sectional study. Setting: Atomic Energy Cancer Hospital (AECH) NORI. Duration of the Study: From January, 2017 to July, 2018. Sampling technique: Non-probability consecutive sampling.
Data Collection
The study was approved by hospital Ethical Review Committee (ERC) and research training and monitoring cell (RTMC). Informed consent was taken from the patients included in the study and fulfilling the inclusion criteria. Patients included in the study were those registered at outpatient oncology department of AECH, NORI. They were evaluated in detail by history, general and systemic physical examination and investigations including hematology, biochemistry and radiological studies. The data were recorded in terms of demographic profile, patient's presentation, performance status in form of ECOG score, viral serology for which Enzyme Linked Immunosorbent Assay (ELISA) was done to detect Anti-IgM HCV antibody and HbsAg antibody for the presence of Hepatitis C and B virus, alpha fetoprotein levels, Child-Pugh class and TNM stage of the disease.
Data Analysis
The collected data were entered and analyzed using SPSS V 22. Descriptive statistics were calculated for both qualitative and quantitative variables. Qualitative variables were presented as percentages/frequency. Quantitative variables including age were presented by mean + SD. Age and stage of the disease was controlled by stratification. Post stratification chi-square test was applied and p value < 0.05 was considered significant.
Introduction
Hepatocellular carcinoma is a primary liver malignancy originating from hepatic stem cells. It mostly occurs in the background of chronic liver disease and cirrhosis [
1
]. Macroscopically the tumor can be infiltrating or nodular [
1
]. Microscopically ranges from well differentiated or poorly differentiated forms [
1
].
HCC is the sixth most common malignancy and the third leading cause of cancer related death worldwide [
1
]. Over the last two decades the incidence of HCC has almost doubled worldwide and Hepatitis C is considered to be the fastest growing cause of overall mortality and hence termed as an "Epidemic". The highest prevalence of HCC is in East Asia followed by Africa. In Pakistan, frequency of Hepatitis C in blood donors is 3% and 4.7% in general population, much higher than in neighboring countries [
2-
4
].
The common risk factors attributing to hepatocellular carcinoma include Hepatitis C infection, Hepatitis B infection, alcoholic cirrhosis, tobacco, Oral contraceptive pills, aflatoxin exposure and hemochromatosis [
1
]. In Pakistan, approximately 2.4% healthy adult population is infected with hepatitis B and 3.0% with hepatitis C virus with much higher prevalence among high risk groups [
5
]. In the developing countries Hepatitis B is considered to be the most important cause of HCC but HCV infection is most commonly involved in pathogenesis of about 60-70% patients of HCC in groups [
5
]. The aim of our study was to evaluate the role of hepatitis C virus as a risk factor in the development of hepatocellular carcinoma in our population. This would help giving recommendations in future to the clinical oncologists and help predicting the outcome of the disease process.
In the light of this information, the aim of our study was to determine prostate cancer detection rates in TRUS-guided prostate biopsies performed for appropriate indications. Curative treatment of prostate cancer is possible when diagnosed early. We think that a reduction in the number of unnecessary prostate biopsies is the most effective way of preventing biopsy-related complications.
Results
A total of 145 patients presented at Atomic Energy Cancer Hospital (AECH), NORI with the diagnosis of hepatocellular carcinoma from January, 2017 to July, 2018. Out of 145 patients 70.3 % were male and 29.7 % were female. Mean age of the patients was 59.68 years±10.58 years. Mean age of the male patients was 58.67±10.4 years and female patients was 62.02±10.7 years. A total of 73.1% patients were positive for Anti-HCV IgM antibody while 26.9% patients were negative. Only 3.4% patients were positive for HBsAg antibody while only 1.3% patients had HCV and HBV coinfection. The chief presenting complaint in most of the patients was abdominal pain (51.7%), followed by jaundice (13.8%) and abdominal distension (5.5%). While patients also presented with vomiting and hematemesis (4.8%), weight loss (1.4%), anorexia (2.8%), bone pains (1.4%), spinal cord compression (1.4%) and brain metastasis (2.1%) and multiple signs and symptoms (15.2%). P-value is 0.174 (
Figure 1
).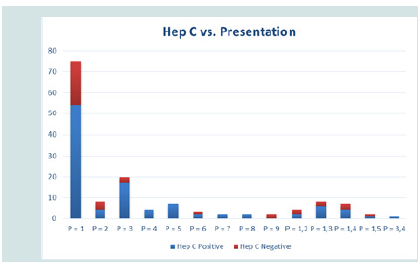 Regarding performance scoring 40% patients were ECOG 1, 39.3% were ECOG 2, 19.3% were ECOG 3 and 1.4% patients were ECOG 4 at the time of presentation (P-value 0.122). Child-Pugh's scoring was done for all the patients. 22.8 % had Child class A, 45.5 % had Child class B and 31.7% had Child class C at the time of presentation (P-value 0.157) (
Figure 2and3
).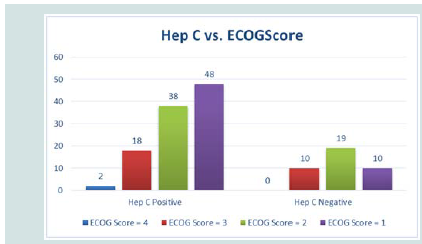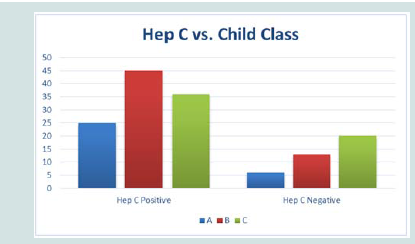 86.2% patients had no family history of any malignancy while only 13.8% patients had positive family history of malignancy. AFP levels of one hundred and ten patients was available with mean value of 12125.1±3064.8 ng/ml, which were categorized in 5 groups for prognostic evaluation (P-value 0.254) (
Figure 4
).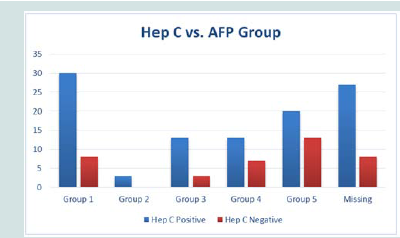 TNM staging was done for all the patients showed that 58.6% had stage IV disease at the time of initial presentation, 27.6% had stage III, 12.4% had stage II and 1.4% had stage I hepatocellular carcinoma (P-value 0.733) (
Figure 5
).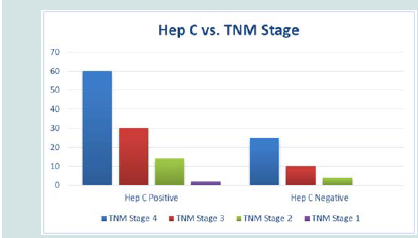 62.8% patients had no associated comorbids, 9.7% patients had hypertension, 11% were diabetic, 0.7% patient had ischemic heart disease, 2.1% patients had asthma, 2.9% had history of pulmonary tuberculosis, and 0.7% had second malignancy while 7.6% patients had multiple comorbids. The survival outcome was very poor in these patients and moratality rate was almost 100% at 1 year. None of the patients had benefited much from systemic treatment. Recurrence rate was high for those early stage patients who had undergone TACE and RFA. No patient was a candidate for curative surgical resection and liver transplant.
Discussion