Journal of Clinical & Medical Case Reports
Download PDF
Case Report
Liver failure Due to Diffuse Neonatal Hemangiomatosis
Cura-Esquivel I*, Montes-Tapia F, Rodriguez-Tamez A, Sanchez-Cortes G and González JE
Department of Pediatrics, Autonomous University of Nuevo Leon, Mexico
Citation: Cura-Esquivel I, Montes-Tapia F, Rodriguez-Tamez A, Sanchez-Cortes G, González JE. Liver failure Due to Diffuse Neonatal Hemangiomatosis. J Clin Med Case Reports. 2019;6(1): 3.
Copyright © 2019 Cura-Esquivel I, et al. This is an open access article distributed under the
Creative Commons Attribution License
, which permits unrestricted use, distribution, and reproduction in any medium, provided the original work is properly cited.
Journal of Clinical & Medical Case Reports | ISSN: 2332-4120 | Volume: 6, Issue: 1
Submission: 26 October, 2018 | Accepted: 28 January, 2019 | Published: 31 January, 2019
Abstract
The term Diffuse Neonatal Hemangiomatosis (DNH) has been used to describe multifocal vascular lesions affecting the skin and organs with the liver being the organ most frequently involved. Although spontaneous regression is the rule, complications such as a high cardiac output caused by portovenous or arteriovenous shunts can occur. Liver lesions can be potentially lethal due to severe complications such as fulminant hepatic failure. Mortality varies between 60-80% in the first months of life without treatment. Propranolol has been reported as an effective and well-tolerated treatment for cutaneous hemangiomas and more recently in hepatic hemangiomas.
We report the case of an infant with a diffuse neonatal hemangiomatosis with hepatic hemangioma, which caused liver failure and successfully responded to treatment with propranolol.
Keywords
Hemangioma; Diffuse hemangiomatosis; Liver failure; Neonatal; Propranolol
Introduction
Figure 2: An axial T2 magnetic resonance image with fat saturation demonstrates multiple hyperintense lesions with near total hepatic parenchymal replacement.

Treatment for heart failure with digoxin and furosemide was started. Also, prednisolone 2 mg/kg/day and propranolol at an initial dose of 1 mg/kg/day and gradually increased to a dose of 3 mg/kg/day were administered for DNH. The patient remained hospitalized in the Pediatric Intensive Care Unit for 3 weeks. His cardiovascular status stabilized after 14 days of treatment. Liver function also gradually normalized. At 3 weeks of treatment jaundice had disappeared and liver function tests were normal (Albumin 3.9 mg/dL, TP 12.2 sec and TTP 18 sec). Treatment with prednisolone was stopped after four weeks and propranolol was continued for 10 months. At 12 months of age, the skin lesions had disappeared. A follow-up ultrasound showed normal liver size with a reduction of hypoechoic lesions (less than 2 mm). At 24 months of follow-up the patient had no evidence of heart failure and normal liver function. The liver hemangiomas were almost imperceptible on abdomen ultrasound and MRI (

Figure 3

).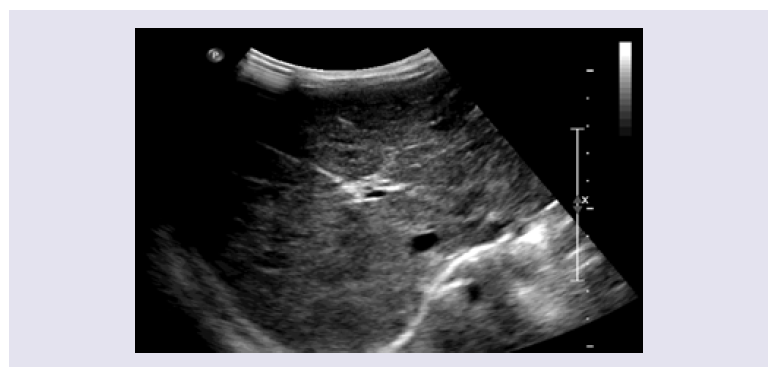 Figure 3:
Ultrasound scans images twenty-four months later: grayscale injury happens now unnoticed.
Discussion
Hemangiomas are the most common benign tumors in childhood. They were initially considered neoplastic lesions that originated in the vascular endothelium; they are now known to be benign endothelial cell neoplasm's characterized by rapid growth followed by involution in the early years of life.
Infantile Hepatic Hemangiomas (IHH), in particular of the diffuse subtype, can be associated, in severe cases, with hepatic and cardiac insufficiency. The early recognition of this entity is essential to start treatment and reduce the risk of long-term sequela and even death.
The signs of systemic compromise may be subtle, and include failure to thrive (secondary to underlying thyroid or cardiac dysfunction) and feeding difficulties. The presence of hepatomegaly on clinical examination should expedite radiological investigation.
Liver hemangiomas, especially those that are multiple and large, are associated with high mortality. One complication is high-output congestive heart failure (51%) because these lesions simulate the hemodynamic alterations of a left-right shunt.
However, with proper treatment mortality is reduced to 27%.
We report the case of an infant with DNH with liver failure secondary to liver hemangiomas. Based on reports that propranolol has been effective in the treatment of hemangiomas in children, we offered this therapy to our patient who showed dramatic improvement of liver failure, demonstrated by the recovery of liver metabolism and synthesis.
Conclusion
Diffuse neonatal hemangiomatosis is a rare and potentially fatal disease. Due to its rapid development, early intervention is necessary to prevent progression or produce regression.
In this case, liver failure secondary to DNH occurred, which resolved effectively with steroids and propranolol. The primary cause of liver failure was the hepatic hemangiomas. The administration of propranolol had a fast and consistent therapeutic effect allowing control of the complications caused by hemangiomas. It also shortened the natural history of the disease (proliferation phase) and contributed to its resolution with good tolerance.