Journal of Cytology & Molecular Biology
Download PDF
Research article
Quality of Sample in theMolecular Determination of Human Papillomavirus in Breast Tissue: Pre-Analytical and Analytical Error-Based Approach
Jeel Moya-Salazar*
School of Medicine, Faculty of Health Sciences, Universidad Norbert Wiener, Peru
*Address for correspondence:
School of Medicine, Faculty of Health Sciences, Universidad Norbert Wiener, Peru, Tel: +51 2010400;E-mail:
jeel.moyasalazar@icloud.com
Citation: Moya-Salazar J. Quality of Sample in the Molecular Determination of Human Papillomavirus in Breast Tissue: Pre-Analytical and Analytical Error- Based Approach. J Cytol Molecul Biol. 2018;3(1): 6.
Journal of Cytology & Molecular Biology | ISSN: 2325-4653 | Volume: 3, Issue: 1
Submission: 10 October, 2018| Accepted: 12 November, 2018 | Published: 19 November, 2018
Copyright: © 2018 Moya-Salazar J. This is an open access article distributed under the Creative Commons Attribution License, which permits unrestricted use, distribution, and reproduction in any medium, provided the original work is properly cited.
Abstract
Introduction: High-risk Human Papillomavirus (HR-HPV) can play an important role in the development of breast cancer. The investigations that attempt to clarify this purpose require quality in their results, which constitute the success of each study and the assurance of each result in both clinical practice and scientific research.
Objective: to evaluate the quality of breast tissue during the analysis of HR-HPV in samples of patients with breast cancer, in order to establish a quality control of pre-analytical and analytical processes in the laboratory of molecular biology useful for clinical diagnosis and for scientific research.
Materials and methods: Twenty-five samples of mammary carcinoma (12 surgical specimens and 13 biopsies) were included with prior informed consent at INEN in Peru, which had a diagnostic pathologic report with breast receptors (RE, RP and HER2) and were analyzed for HR-HPV with the My09/My11 system. The quality evaluation was performed during extraction and amplification (β-globin, positive control (HPV 16) and negative), and the sample quality analysis under CLSI guidelines MM13-A and CLSI MM06-A2.
Results: All samples were negative for HR-HPV and one had no β-globin amplification. An overall DNA concentration of ≤ 45 ng/μL was determined. Biopsies performed better than surgical specimens did (p=0.001). No association was found between samples with ≥ 1 positive breast marker with sample quality (p=0.588), or with molecular result (p=0.778).
Conclusion: Verification of breast tissue quality during the determination of HR-HPV in breast cancer showed poor quality, with low levels of DNA concentration and significant differences between sample types.
Keywords
Quality control; Human papilloma virus; Breast cancer; Cancer; Tissue preservation; Molecular biology
Introduction
In this sense, we aimed to verify the quality of breast tissue during the determination of the Human Papilloma Virus in breast cancer tissues. This objective was given in the framework of the establishment of a quality protocol for pre-analytical and analytical processes in the molecular biology laboratory useful for clinical diagnosis and for scientific research.
Materials and Methods
Samples
The selected samples were collected by biopsy and surgical specimens, with prior informed consent authorized by the ethics committee of the National Institute of Neoplastic Diseases (INEN) of Peru, as part of the objectives of the Cancer Research-Circle. The samples were collected in outpatient Oncology Care offices, which were referred to the Tumor Bank for storage in vials of 3ml at -60 °C in the freezing system until they were processed together. A standardized code for each sample was assigned.
The clinical records were collected to identify the main components of interest of the Cancer Research Circle:
Date of receipt of sample
Type of sample collected
Patient's ID
Pathological report
Results of the previous Immunohistochemical.
Pathological report
Molecular test for HPV detection
The DNA extracts were quantified with the Qubit™ fluorometer (Thermo Fisher Scientific, Carlsbad, CA) with a cut-off value of 70 µl of DNA. The HPV's DNA detection from breast tissue was performed with the HPV Consensus PCR and Genotyping system, which uses the My09/My11 primers that pair with the L1 region of the HPV genome (band 450 bp). In all analyzes (run of 5 samples) a pair of primers for the β-globin gene was included as an internal quality control.
The amplified products were run by horizontal electrophoresis using agarose gel (3% at 112 V for 40 minutes) then colored with SYBR Safe (for 15 minutes) and visualized in the UV transilluminator.
Quality evaluation
Data analysis
The data analysis was performed with descriptive statistics, obtaining percentages, means and standard deviation values. We evaluated the associations between receptor negativity, type of sample, and type of breast carcinoma, and DNA quantification. In addition, we analyzed the variability between surgical specimen and biopsy related to the DNA quantification. The Pearson test was used considering a p value < 0.05 as statistically significant. The technique used for the statistical verification of the results was through the analyzer IBM SPSS v21.0 (Armonk, USA). This study received the approval of the INEN ethics committee as part of the objectives of the Cancer Research Circle (204-2015-FONDECYT).
Results
We analyzed 25 samples, of which 12 (48%) were surgical pieces, and 13 (52%) were biopsies with Core-Needle Aspiration (CNA). All these samples were extracted and analyzed in accordance with clinical requirements and pathological reports, all of which were negative for HPV infection.
The CNA had better performance than the surgical pieces (p = 0.001), obtaining 30% more nucleic acids
Table 1
. We was determined an overall concentration of DNA < 45 ng/ μL; DNA was extracted from 100% of samples.

Table 1:
Major baseline components evaluated during the analysis of Human Papillomavirus in breast tissue of patients diagnosed with breast carcinoma.
The division includes the samples with histopathological diagnosis of invasive carcinoma of the breast, infiltrating carcinoma of breast subtype Nos / NST, infiltratingcarcinoma of the breast, infiltrating mammary carcinoma subtype NOS, breast tissue with the presence of focal atypical ductal hyperplasia, breast parenchyma with focal changes fibriadenomatous, chronic granulomatous mastitis, and fibroepithelial lesions related to fibroadenoma with the presence of ductal hyperplasia. ‡ Average concentration of DNA quantified with the fluorometer Qubit™ † Positive results: > 70% of cells with reactivity for the marker compared to the control. Abbreviations: ER: Estrogen Receptor; PR: Progesterone Receptor; HER2: Human Epidermal Growth Factor Receptor 2; n: Number of samples.
Table 1
shows the main quality components of the study. We showed fragments of different sizes that depended on the tissue collection method. Twenty-eight percent (7 samples) of CNA and surgical pieces had therapeutic margins. We found an association between tissues obtained with therapeutic margins and a low amount of DNA (rho=0.758, p=0.015).
All positive controls had amplification at the level of the 450 band, with the exception of sample ID-4 that did not show amplification of the control gene (β-globin) being excluded
Figure 2
.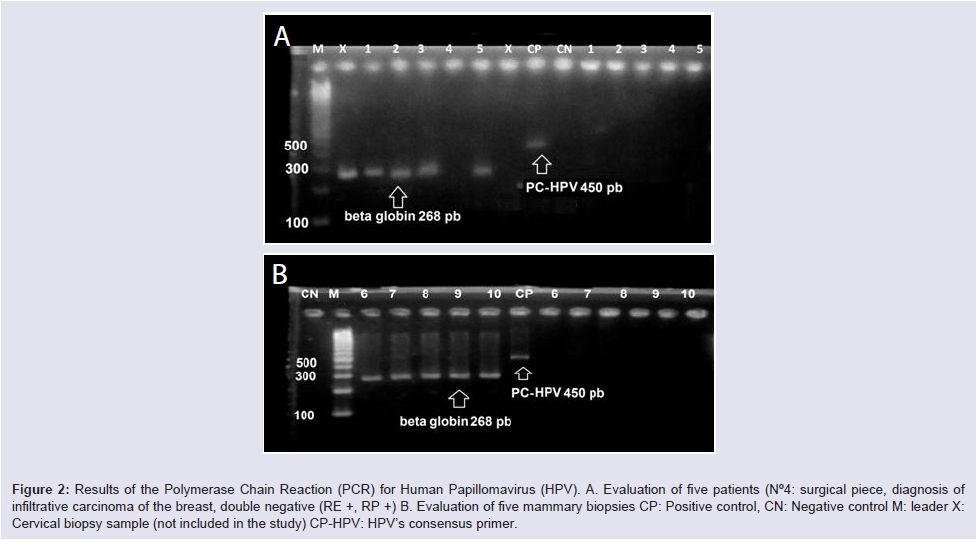 Figure 2:
Results of the Polymerase Chain Reaction (PCR) for Human Papillomavirus (HPV). A. Evaluation of five patients (N°4: surgical piece, diagnosis of infiltrative carcinoma of the breast, double negative (RE +, RP +) B. Evaluation of five mammary biopsies CP: Positive control, CN: Negative control M: leader X: Cervical biopsy sample (not included in the study) CP-HPV: HPV's consensus primer.
Four (16%) results were considered doubtful in their Immunohistochemical evaluation. In total, 3 triple-receptornegative samples were reported, 4 (16%) did not present pathological evaluations and 3 (12%) presented dubious results for theimmunohistochemical markers.
No association was found between the positivity of ≥1 breasthormonal- receptor marker with the sample quality (p=0.588), nor with the molecular result (p=0.778). No significant differences were found between the types of samples (p = 0.779) but in the clinicalpathological diagnosis (p = 0.017).
Discussion
In this study we showed that all tissue samples from breast cancer were negative for HPV. We determined that a sample did not demonstrate DNA extraction and amplification quality with the β-globin control, that 44% samples had low DNA levels (≤ 34 ng/μL) and that these characteristics were related to the type of sampling.
In the Peruvian clinical practice, the CNA and the surgical specimens with margins are the most frequent samples. For that reason, we need the importance of the correct fixation in neutral buffered formalin that avoids the false negatives and allows the visualization of the histological grade, the evaluation of vascular invasion, and other cellular components. Hence, we propose as an interference role the ink used to delimit the surgical margins, further investigation is also required to determine how the dye/ink impacts the analysis of subsequent nucleic acids.
The quality assurance strategies during the nucleic acid extraction and amplification of this study were the addition of the negative control (ultra-pure water) to ensure that there is no contamination during the analysis, and the amplification of β-globin in the same reaction for controlling adaptation of the sample. In each molecular evaluation, it is necessary to use reference genes (beta-actin, HLA, GAPDH, β-globin, HPRT1, among others) that generate validation data and stability of the analysis together for each experimental milieu. As all these have a certain degree of variation, the validation of the selected gene for each molecular process is necessary.
The main goal of the study was not the comparative analysis of PCR techniques with My09/My11 primers against other methods (RT-PCR, in situ PCR, GP5+/GP6+method, etc.) for the detection of HPV in breast tissue, thus, we cannot explain the performance of the test. In general, if the detection method has limitations, analytical errors. Analytical errors (false results) of detection will be generated that will affect the quality of the study, and the clinical management of the patients with negative results. These limitations must be considered to ensure high-quality results that allow their correct interpretation.
To evaluate all these quality components, there are international regulatory organizations that provide a basic system for the evaluation of clinical laboratories. However, molecular tests are not specified under the general requirements of the CLIA'88 guide where the quality ranges for each procedure are established.
More studies are required to evaluate the oncogenic role of HPV in breast tissue, explaining its possible non-sexual dissemination and the tropism of viral subtypes. Likewise, if a diligent association is established between HPV and breast carcinoma, its routine diagnostic application and its importance for health should be argued, because if HPV analysis for CC has not yet been seriously applied in Peru, we believe that its application to be far away for breast cancer.