Journal of Clinical and Investigative Dermatology
Download PDF
Case Report
Hookworm-related Cutaneous Larva Migrans with Exceptional Multiple Cutaneous Entries
Luis J. Borda1, Penelope J. Kallis1, Robert D. Griffith1, Alessio Giubellino1 and Jeong Hee Cho-Vega2*
1Department of Dermatology and Cutaneous Surgery, University of Miami Miller School of Medicine, Miami, FL, United States
2Dermatopathology Division, Department of Pathology and Laboratory Medicine, Sylvester Comprehensive Cancer Center and University of Miami Miller School of Medicine, Miami, FL, United States
---
*Address for Correspondence:
Jeong Hee Cho-Vega, Dermatopathology Division, Department of Pathology and Laboratory Medicine Sylvester Comprehensive Cancer Center and University of Miami Miller School of Medicine 1120 NW 14th Street, Holtz ET, Suite 2146 Miami, FL 33136, USA, Tel: (305)- 243-6433; Fax: (305)-243-1624; E-mail:
j.cho1@med.miami.edu
Citation: Kondhalkar M, Dudhbhate A, Apte K, Banerjee R, Parab P. Clinical Study to Evaluate Safety and Efficacy of a Topical Hair Minimizing Lotion in Healthy Human Volunteers. J Clin Trials Pat 2017;2(1): 4.
Copyright: © 2017 Borda LJ, et al. This is an open access article distributed under the Creative Commons Attribution License, which permits unrestricted use, distribution, and reproduction in any medium, provided the original work is properly cited.
Journal of Clinical & InvestigativeDermatology| ISSN: 2373-1044 | Volume: 5, Issue: 1
 
Submission: 25 May, 2017| Accepted: 15 June, 2017 | Published: 22 June, 2017
Abstract
Hookworm-related Cutaneous Larva Migrans (HrCLM) is a pruritic serpiginous cutaneous eruption caused by animal hookworms commonly found in tropical and subtropical areas, especially the Southeastern United States. We describe here a very exceptional HrCLM case showing multiple larva entries/lesions in a 63-yearold white male living in Miami. Clinically he presented with multiple pruritic erythematous serpiginous tracks on his left anterior leg, left calf, and right thigh. While skin biopsies failed to demonstrate larva itself, the overall histological features supported multiple larva tracks as showing several small intra-epidermal cavities with eosinophil-rich dermal inflammation. The patient was treated with Ivermectin 200 mcg/kg daily per OS for 2 days, and his cutaneous lesions subsided within 1 week of the treatment. This case exemplifies that even though the clinical presentation of HrCLM is extensive with multiple cutaneouslarva tracks, it is still should be treated with a broad-spectrum antiparasitic agent at normal dosage. We also discuss literature-based characteristic geographical and clinical features of HrCLM and treatment options.
Keywords
Hookworm-related Cutaneous Larva Migrans; Hookworm; Serpiginous multiple tracks; Tropical area; Anti-parasite agent
Introduction
Hookworm-related Cutaneous Larva Migrans (HrCLM) is one of the most common helminthic skin infestations. HrCLM is caused by the larvae of domestic animal hookworms, the most common being Ancylostoma braziliense and Ancylostoma caninum [
1-3
]. The mature hookworms reside in the intestines of cats and dogs and their eggs are released into the environment on defecation. Within two days the larvae hatch and mature to filariform (third stage) larvae able to infect other animal hosts [
4
]. These larvae are most prevalent in tropical and subtropical areas, frequently found on beaches in the Southeastern United States, Central and South America, Southeast Asia, and Africa [
2
,
5
]. Humans are infected via contact with these larvae through soil. Sites that are the most commonly affected include feet, legs, and buttocks [
3
,
6
]. The filariform larvae in humans are not capable of maturation, usually with one single entry, and only migrate within the epidermis of immunocompetent people. The first sign may be a pruritic papule that evolves to the classic serpiginous erythematous track (i.e. "creeping eruption"). The larval migration triggers severe pruritus that may result in epidermal disruption and secondary infection, requiring treatment. The diagnosis is made by physical examination and history, such as occupational history or endemic areas travel; and skin biopsy is commonly not necessary [
4
,
7
].
Here, we present an exceptional HrCLM in a Miami resident with multiple larva entry points on three different locations of the body. We also discuss literature-based characteristic geographical, clinical and histological features of HrCLM, and treatment options.
Case Presentation
A 60-year-old white male, who came from a rehabilitationassisted living facility in Miami, Florida, presented with multiple intensely pruritic migratory erythematous serpiginous tracks for 10 days over his left calf, left anterior leg, and right thigh. There were also hyper-pigmented macules around the tracks with overlying crust (
Figure 1
). Patient stated that he had been living some time in a bush and sleeping on the ground where stray animals defecate. He was previously treated for scabies with permethrin without success, otherwise unremarkable medical history. Based upon the typical characteristics of the lesions and epidemiologic history, a diagnosis of HrCLM was suspected, but due to the unusual multiple lesions, skin punch biopsies were performed from the left buttock and right posterior lower leg. Histologic sections showed several small intraepidermal cavities, likely corresponding to larva tracks (
Figure 2A
) associated with eosinophil-rich dermal mixed inflammatory cell infiltrates (
Figures 2B and 2C
). Histology failed to demonstrate larvae itself. However, given the characteristic clinical presentation and overall histological features, the diagnosis of HrCLM was made.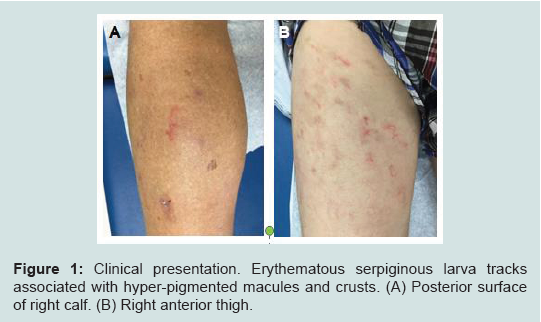 Figure 1:
Clinical presentation. Erythematous serpiginous larva tracks associated with hyper-pigmented macules and crusts. (A) Posterior surface of right calf. (B) Right anterior thigh.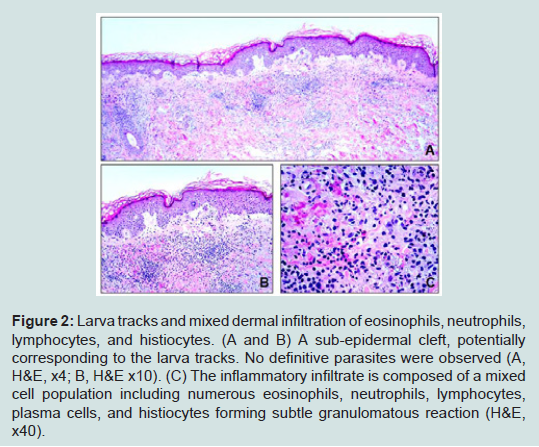 Figure 2:
Larva tracks and mixed dermal infiltration of eosinophils, neutrophils, lymphocytes, and histiocytes. (A and B) A sub-epidermal cleft, potentially corresponding to the larva tracks. No definitive parasites were observed (A, H&E, x4; B, H&E x10). (C) The inflammatory infiltrate is composed of a mixed cell population including numerous eosinophils, neutrophils, lymphocytes, plasma cells, and histiocytes forming subtle granulomatous reaction (H&E, x40).
Initial treatment was aimed at eradication of the hookworm larvae. He was treated with Ivermectin 200 mcg/kg PO daily for 2 days (15 mg PO the first day and 15 mg PO the second day) and triamcinolone 0.1% ointment twice daily for pruritus. The lesions subsided after one week with treatment.
Discussion