An antibody produced by a single clone of cells or cell line consisting of identical antibody molecules is called a monoclonal antibody. They are monospecific in nature. The fusion of human myeloma cells with mouse spleen cells (immunized with desired antigen) results in the formation of Monoclonal antibodies. Monoclonal antibody-based treatment of cancer is one of the most successful therapeutic strategies. Modified mAbs are used for delivering toxin, radioisotope, cytokine or other active conjugate; it is also possible to design bi-specific antibodies which bind with their Fab regions to both target antigen and to a conjugate or effector cell. Every intact antibody can bind to a cell receptor and other proteins with its Fc region.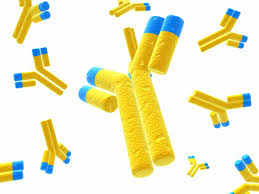 The modulation of immune system interact with tumor cells through targeting of T cell receptors has emerged as a brightful new therapeutic strategy for tumor therapy and to enhance cancer vaccine efficacy. Tumor antigens suitable for antibody targeting and therapy require a comprehensive analysis of tumor expression and normal tissue expression. If the desired mechanism of an action is engaged with the cell surface receptors to either activate or inhibit signaling, or to activate antibody-dependent cell-mediated cytotoxicity (ADCC) or complement-dependent cytotoxicity (CDC), then it is desirable that the antigen-mAb complex should not be rapidly internalized.
The use of monoclonal antibodies for the therapy of cancer is one of the major contributions of tumor immunology. Scientific research from decades aim at serological characterization of cancer cells, techniques for generating optimized antibodies to target tumor, detailed investigation of signaling pathways relevant to cancer cells, and an understanding of the complexity between cancer cells and the immune system led to a great success. The clinical development of antibodies is linked to a disciplined way of exploring the properties of antibodies in vivo and assessment of functional effects on cancer cells. The combination of Vaccine and antibody, immune based treatments can fulfill the promise of tumor immunology in controlling and treating cancer.